Mosswood Meltdown at Mosswood Park in Oakland, CA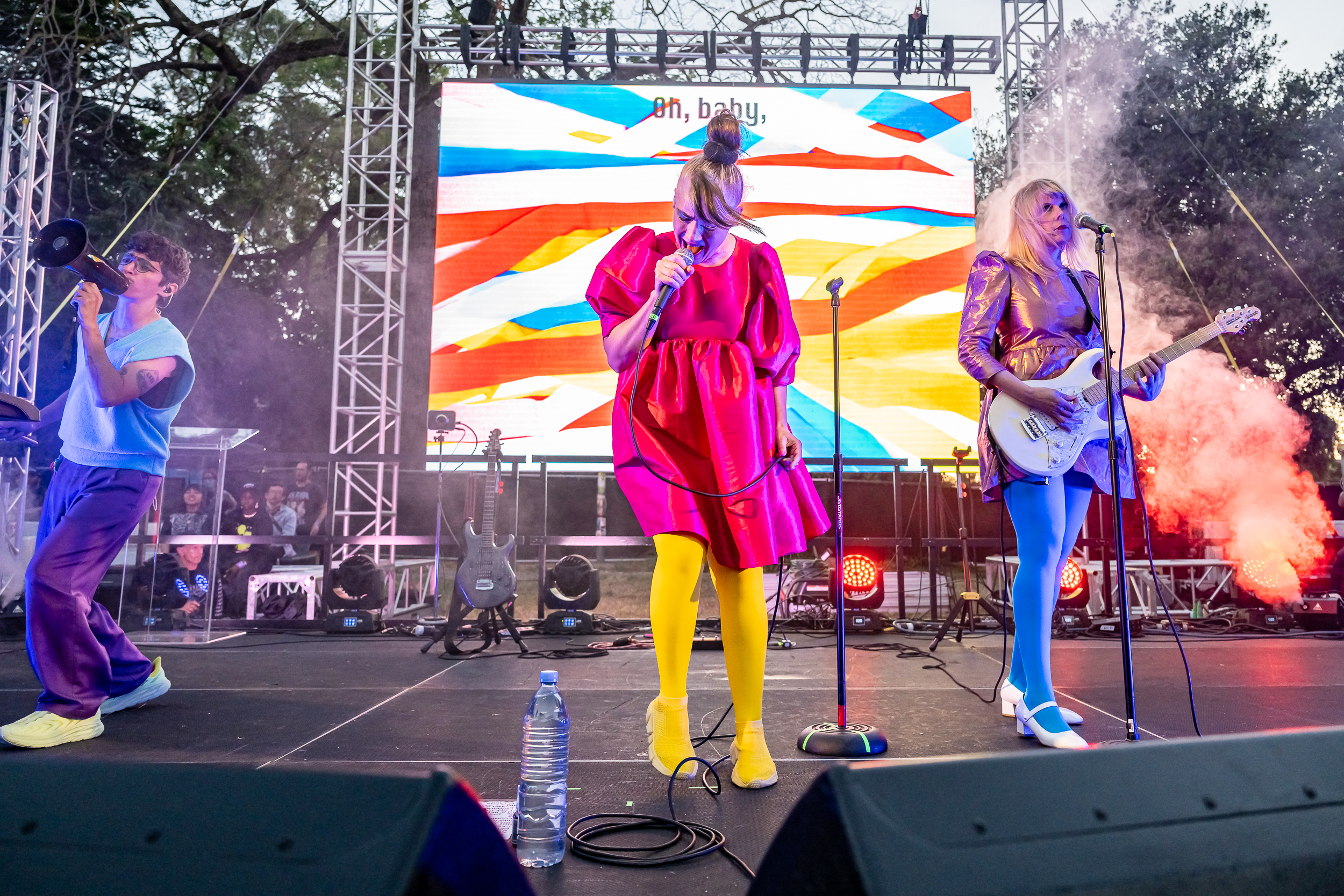 ---
Mosswood Meltdown returned to Mosswood Park in Oakland for what would once again prove to be one of the most eclectic music festivals around. A rare live performance by Le Tigre was clearly the weekend's draw and Saturday kicked off early with LA's Memo PST as a steady stream of fest goers filled the amphitheater and proceeded to bounce between stages.
What the Meltdown has proven time and time again is that they know how to pull together an eclectic lineup that keeps folks coming back and this year's event was no different. Can you imagine the lies of Cumgirls, The 5.6.7.8.'s and ESG ever existing on the same bill?!?! Not to be missed was Twompsax (allegedly) final Mosswood performance which is was delivered in true Cher Strawberry fashion … frenetic, loud and over too soon which left plenty of time for the crowd to pack the field stage in anticipation of Le Tigre.
Kathleen Hannah is no stranger to the event having played in 2022 with Bikini Kill. No doubt that experience made it that much easier to say 'yes' when Le Tigre was invited. Pausing a few songs into their set, she was effusive in her support for what the organizers have been able to pull off. So how was Le Tigre? Awesome! And the packed field was more than happy to dance along!
Le Tigre
ESG
The Rondelles
Quintron & Ms. Pussycat
Tina & the Total Babes
The 5.6.7.8.'s
Morgan & the Organ Donors
Cumgirls
Memo PST
After a long day in the sun and a late night with Le Tigre, Day #2 of Mosswood Meltdown took off at a more reserved pace. That changed dramatically when return Meltdowners Snooper took to the stage mere hours after landing in San Francisco from Australia and proceeded to absolutely destroy the place with a super energetic set. Teddy Bear Orchestra picked things back up in the amphitheater with a ridiculously fun set powered my mechanized teddy bears (what could go wrong, right?).
Keeping with the "riot grrl" theme, local punk rock heroes Avengers gave way to Miko Mika, the return of Bratmobile and finally the weekend's closer Gravy Train!!! Nestled in there was what was probably originally perceived by fest goers as an out of place set by rap legends JJ Fad, but the crowd quickly warmed up to the good time and was plenty eager to participate in the on-stage dance party.
Thanks again to Mosswood Meltdown for another rad weekend in the hood! And if you're wondering about next year, early bird tickets are already on sale here!
Bratmobile
JJ Fad
Miko Mika
Avengers
Teddy Bear Orchestra
Snooper
© 2023 Alan Snodgrass | www.digitaldiversion.net. Please do not use without express permission.