Testament | January 30, 2013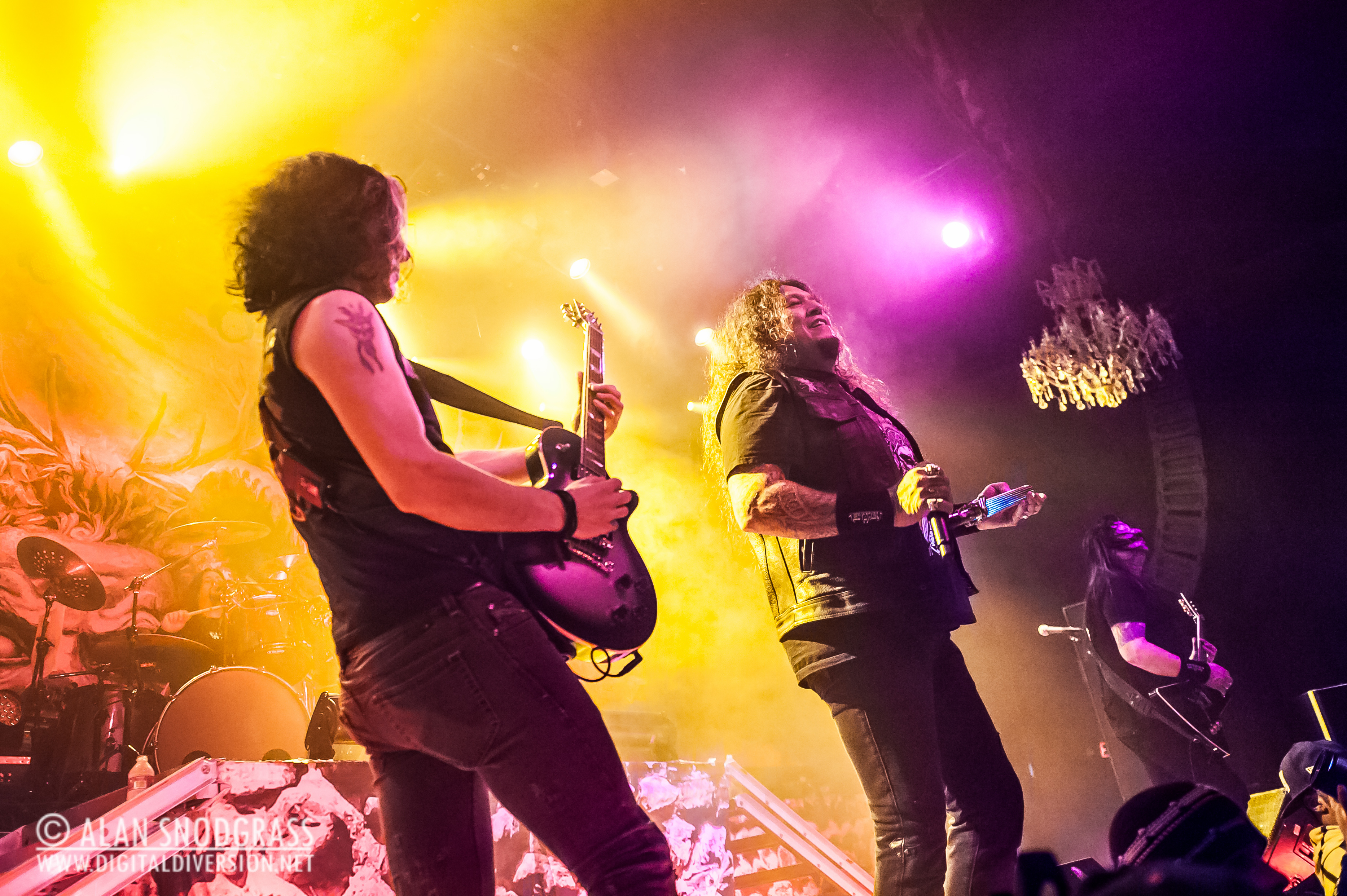 Testament kicked off their "Dark Roots of Thrash" headlining tour with a hometown show at San Francisco's Fillmore.
Testament kicked off their "Dark Roots of Thrash" headlining tour with a hometown show at San Francisco's Fillmore.
San Francisco's favorite cover band, The Butlers, kicked things off and treated those that were lucky enough to have arrived early to some special guest performances with Phil Demmel of Machine Head playing "Shoot Shoot" and Rob Cavestany and Mark Osegueda of Death Angel throwing down on "Green Manalishi." Up next was 4Arm from Australia which sparked some early pit action, but Overkill absolutely lit the place on fire. Overkill is definitely one of those supporting acts that makes the headliner play harder and will prove to be a perfect complement to Testament on this tour.
10 pm came and went as Testament's crew scrambled about, revealing an expansive setup that consumed the entirety of the Fillmore's tiny stage. A massive banner, ramps to a platform with Hoglan's kit and plenty of room for the guys to roam.
Touring in support of their latest release, Dark Roots of Earth
, which has garnered accolades as one of the best albums of 2012, Testament is clearly striking while the metal is hot. They wasted no time diving into the new material with "Rise Up" for which the participation from the crowd was stellar … a testament (pun intended) to the quality of Dark Roots. It's unlikely that anyone would have complained had Chuck and the gang pulled out more than the four songs found on the night's setlist.
Being the first stop on the tour, it's not unusual for problems pop up as the kinks get worked out. In this case, the only noticeable glitch was when the band busted into a song while Petersen stood there guitarless. Otherwise, Testament was in true form … Chuck Billy is a mountain of a man with a mountain of a voice but the glee on his face as he air-guitared along with the band in front of his hometown crowd (including several musicians from the local metal scene) was clearly visible. Testament was on fire and so was the crowd and the pit did not let up during the 80 minute set.
Not a bad way to kick off a tour! Don't miss it when it passes through your town.
Setlist:
Rise Up
More Than Meets The Eye
Burnt Offerings
Native Blood
True American Hate
Eyes Of Wrath
Into The Pit
Dark Roots Of Earth
Practice What You Preach
The Evil Has Landed
The Haunting
New Order
DNR
Riding The Snake
Formation of Damnation
–Encore–
Supporting acts: Overkill, 4Arm, The Butlers
© 2013 Alan Snodgrass | www.digitaldiversion.net. Please do not use without express permission. If you like what you see, leave a comment below and subscribe so you can be notified of new posts. You can also become a fan on Facebook.