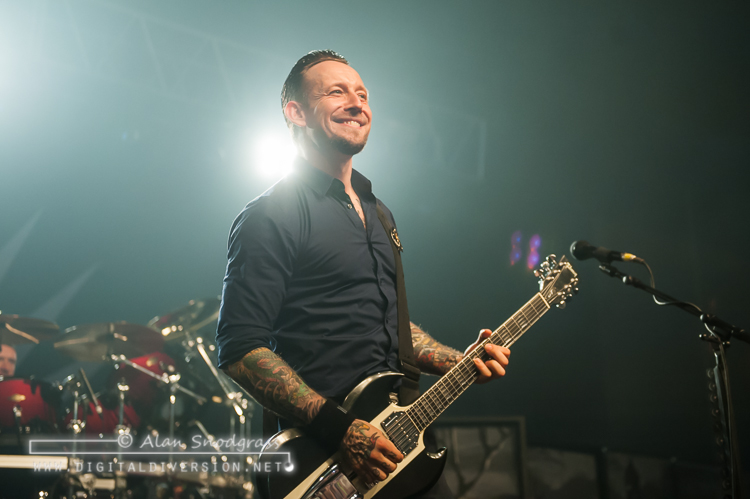 Still riding high a year after their 2013 release of Outlaw Gentlemen & Shady Ladies, Volbeat recently kicked off their fourth visit to North America on this album cycle. Digital Diversion caught up with the band in Modesto, California ... a town that felt in desperate need of a good metal show.
Still riding high a year after their 2013 release of Outlaw Gentlemen & Shady Ladies
, Volbeat recently kicked off their fourth visit to North America on this album cycle. Digital Diversion caught up with the band in Modesto, California … a town that felt in desperate need of a good metal show.
The line out front started to queue in the wee hours of the morning and by the time the doors opened, the line of black-shirted fans made it's way down the street and around the corner. Given the vibe out front, it's fairly certain that the enthusiasm would have been there even if Modesto didn't deserve to be #8 on Movoto's list of the 10 Most Boring Places in California. With Trivium and Digital Summer in tow, that's a tough bill for any metal fan to pass up, whatever your city. Indeed, the show found die-hards traveling from all over to attend.
One of the indicators for the aforementioned Movoto list is the number of live music venues per capita. As if to bolster the findings, the show was held in the conference center ballroom of the local Doubletree Hotel but with a big room, a bar and great lights, the 2000-ish people gathered last night didn't seem to care. After all, it was the music that they were here for.
Phoenix-based Digital Summer kicked the night off at 7 pm by which time the venue was packed. With a new line-up (at least since Digital Diversion last caught them) including a 13 year old phenom on drums, Digital Summer delivered an energetic set which by all indications won-over a healthy portion of the crowd. Plying the crowd with t-shirts was a nice touch, but certainly not necessary when you know how to rock and roll.
Next up, Trivium. While Volbeat was the headliner, there was clearly a shit-ton of Trivium fans in the crowd. Their tight and ferocious 45 minute blew by quickly and likely left a lot of people wanting more. With a mainstage slot on this summer's Mayhem Fest, they're likely to surprise a lot of people in a good way if they keep it up.
Volbeat kept the crowd waiting for nearly an hour but that didn't seem to dampen the energy in the room and when Motörhead's "Born to Raise Hell" came on over the loudspeakers, the room erupted. Wasting no time, the band knocked out three tunes before breaking at which time frontman Michael Poulsen (alluding to Rob Caggiano on guitar) jokingly introduced the band as, "Anthrax with three new members." Jokes aside, Rob was visibly cheerier than he had been with Anthrax in recent years; it was good to see him enjoying himself so much on stage again.
The entire band seemed in good spirits as they blasted through their set, Michael joking and smiling along the way. When the crew brought out his acoustic guitar, Michael must have heard someone in the crowd call out for "Sad Man's Tongue" at which point he quipped, "you think you know what's coming next? It's time for the 15 song acoustic set!" Of course the crowd was right, it was time for "Sad Man's Tongue" but not before Michael broke out a sing-along of Johnny Cash's "Ring of Fire."
There's one thing that you can't deny about Volbeat and that's how in-tune they are to their audience. Rob spent a lot of time out on the stage extension and at one point Michael crowd-surfed out to hand a t-shirt to a little girl who was sitting on someone's shoulders. That's the kind of thing that builds fan loyalty and keeps people coming back show after show. In fact, Michael gave a shout-out to some of those fans, calling them the "most hardcore Volbeat fans I've ever known," before joking, "the only place I've never seen you is in my bed and I'm thankful for that!"
With 5 full albums, Volbeat took to medleys in order to cram all their hits and new material into a single 90 minute set which ended up working well. They even broke out a snippet of a new, unnamed song that sounded like classic Volbeat and which Michael suggested we may get the whole thing for Christmas. New album?
"Still Counting" wrapped the main portion of the set after which the band took a much-deserved break but the night was by no means over as they took the stage for the encore joined by none other than Phil Demmel of Machine Head (hey Phil, let's carpool next time … call me) for "Pool of Booze, Booze, Booza." Another medley of "The Human Instrument" and "A Warrior's Call" wrapped an amazing night of music which hopefully will help the town of Modesto improve their rankings next year.
Supporting acts: Trivium, Digital Summer
Setlist:
Doc Holliday
Radio Girl
Hallelujah Goat
Lola Montez
Boa
Sad Man's Tongue
Guitar Gangsters & Cadillac Blood
Dead But Rising
16 Dollars
Maybellene I Hofteholder
Heaven Nor Hell
Medley (Broken Man/Mary Ann's Place/Rebel Monster/Making Believe)
New Song Snippet
The Nameless One
We
Still Counting
–Encore–
Pool of Booze, Booze, Booza
The Hangman's Body Count
Thanks
The Human Instrument / A Warrior's Call
Remaining Tour Dates:
4/09 — Reno, NV @ Grand Sierra Theatre
4/10 — Medford, OR @ Medford Armory
4/11 — Spokane, WA @ Knitting Factory
4/13 – – Boise, ID @ Taco Bell Arena
4/14 — Seattle, WA @ Paramount Theatre
4/15 — Missoula, MT @ Wilma Theatre
4/17 — Fargo, ND @ The Venue
4/18 — LaCrosse, WI @ LaCrosse Center
4/19 — Clive, IA 7 Flags @ Event Center
4/21 — Ft. Wayne, IN @ Piere's
4/22 — Cleveland, OH @ The Agora
4/23 — Louisville, KY @ Palace Theatre
4/25 — Tampa, FL T.B. @ Times Forum – WXTB
4/26 — Jacksonville, FL @ Welcome To Rockville
4/27 — Chattanooga, TN @ Track 29
4/28 — Nashville, TN @ Marathon Music Works
4/30 — Pittsburgh, PA @ Stage AE
5/01 — Bethlehem, PA @ Sands Event Center
5/02 — Virginia Beach, VA @ Farm Bureau Live / Lunatic Luau
5/03 — Charlotte, NC @ Carolina Rebellion
5/05 — Niagara Falls, NY @ Rapids Theatre
5/06 — Poughkeepsie, NY @ Mid Hudson Civic Center
5/08 — Huntington, NY @ Paramount Theatre
5/09 — Hampton Beach, NH @ Hampton Beach Casino Ballroom
5/10 — Camden, NJ @ Susquehanna Bank Center / WMMR
© 2014 Alan Snodgrass | www.digitaldiversion.net. Please do not use without express permission. If you like what you see, leave a comment below and subscribe so you can be notified of new posts. You can also become a fan on Facebook.