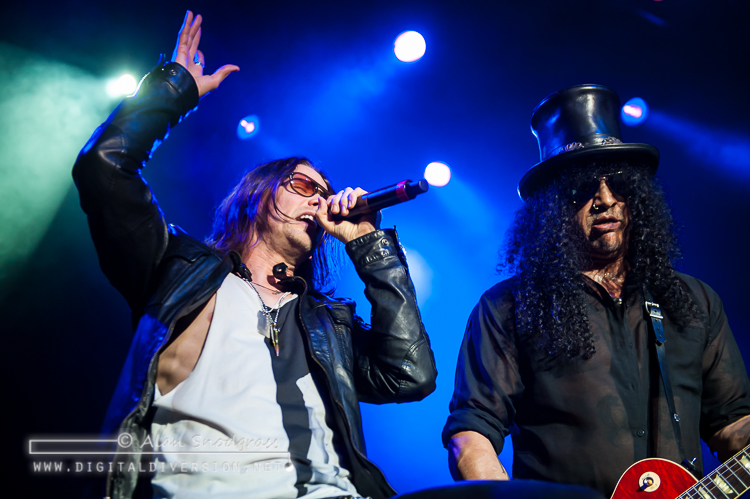 Aerosmith was forced to canceled their show last night in Concord, California due to
illness
but that wasn't going to stop his supporting act Slash from making the most of his time in the Bay Area.
Aerosmith was forced to canceled their show last night in Concord, California due to illness but that wasn't going to stop his supporting act Slash from making the most of his time in the Bay Area. The cancellation announcement went out just past noon and by 3 pm tickets were on sale for an evening with Slash featuring Myles Kennedy and the Conspirators at San Francisco's historic Fillmore.
By the time the 9:30 pm set time rolled around, the Fillmore was packed but shockingly shy of sold out. That didn't seem to deter the band in any way as they eschewed their previous set opener, Ghost, for You're a Lie off of 2012's Apocalyptic Love. Never a band to babble on between songs, they quickly settled into their groove, clearly less worried about cramming their set into an allotted opening slot and instead content to patiently let it all unfold. No doubt the fans that dropped everything to be at there wouldn't have had it any other way and when the band segued into Guns N' Roses' Nightrain, the reality of seeing these guys in such an intimate environment became truly palpable in the characteristically steamy room.
Myles' Kennedy, who you may remember as being severely under the weather when they passed through town on their 2012 headlining tour, was spot-on and his vocals absolutely shined on Starlight. If you were at the 2012 show, you may also remember that Todd Kerns is no slouch on the mic himself and this night found him making a return performance on Doctor Alibi and You're Crazy, offering Kennedy a break from the extended set.
Even though their new album (World On Fire
) isn't out for another month, that didn't stop the band from inserting three tracks into the career-spanning setlist. One listen to 30 Years to Life played live will stop you cold and after hearing World on Fire, you'll be Googling for the pre-order. Yes, the new material is that promising.
A notably slimmed-down Slash owned his guitar as you would come to expect but truly transcended expectations with his solo for Rocket Queen which appeared to channel the psychedelia of the historic venue before employing liberal doses of wah. The acoustic flamenco jam on the double-necked guitar for Anastasia just underscored the skill and soul this man can squeeze out of his fingers.
As the night wound to a close and the familiar chunka-chunk-chunk of Velvet Revolver's Slither rattled the chandeliers, Myles once again thanked the crowd for coming out, "you took a chance on us" … a heartfelt thanks that at least in some part reflected an unwarranted relief that people actually showed up with only a few hours notice.
After a short break, the band returned for one last song, wrapping up the 2 hour and 5 minute set with Paradise City that sparked the only mosh of the night. If you were lucky enough to be there, you saw a band that was as comfortable (or even more comfortable) playing an intimate show for 1,000 people as performing in front of a packed amphitheater. And when man-of-few-words Slash says "thanks a lot motherfuckers," you know he means it.
Setlist:
You're a Lie
Nightrain
Halo
Standing in the Sun
Back from Cali
Stone Blind
You Could Be Mine
Doctor Alibi (Todd Kerns on vocals)
You're Crazy (Todd Kerns on vocals)
Not for Me
30 Years to Life
Rocket Queen
No More Heroes
Starlight
World on Fire
Anastasia
By the Sword
Sweet Child O' Mine
Slither
— Encore —
More on Slash:
| Facebook | Website | Shows | Twitter | iTunes |
© 2014 Alan Snodgrass | www.digitaldiversion.net. Please do not use without express permission. If you like what you see, leave a comment below and subscribe so you can be notified of new posts. You can also become a fan on Facebook.