Kasabian | October 6, 2014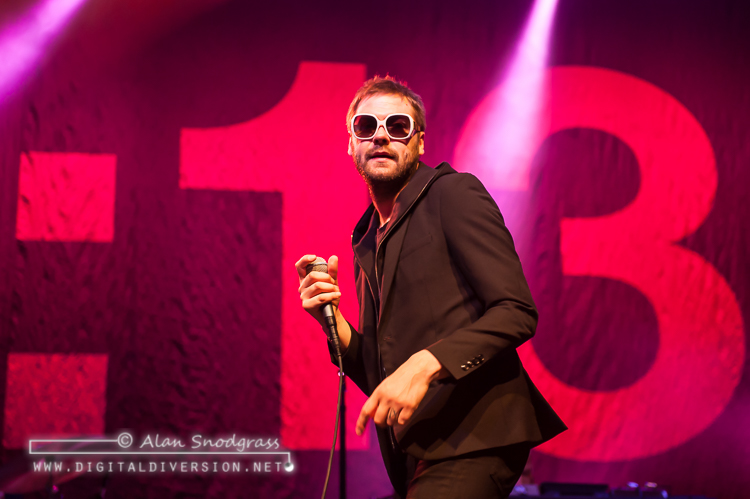 Brit-rock act Kasabian hit the Fox Theater on an unusually quiet night in Oakland's Uptown neighborhood in support of their new release, 48:13.
Brit-rock act Kasabian hit the Fox Theater on an unusually quiet night in Oakland's Uptown neighborhood in support of their new release, 48:13
.
Opening act Bo Ningen kicked things off at 8 pm with a 30 minute set. Once you got past the androgynous Shimizu horror-movie visuals created by the dim, strobing stage lights it became clear that there was something compelling happening on stage. The "acid punk" label seems fitting but incomplete as they incorporated healthy doses of doom and sludge with sparce falsetto vocals to create something truly unique. For those that may not have been paying attention, the epic climax to their set was impossible to ignore and was sure to leave a lasting impression.
By the time Kasabian's 9 pm set time rolled around, the GA pit in front of the stage was packed to the point that, if you were standing there, it would have felt like a sold out show. For some reason however, it didn't seem like the word got out past the most hardcore and/or informed of fans because two tiers back on the floor, there was plenty of room to breathe. That didn't stop the band from putting it all out there even when frontman Tom Meighan took the full brunt of a thrown beer during the first song. A more sensitive bloke may have thrown a fit, or at least kept his distance from the crowd. Not so Tom who he seemed nonplussed and more concerned with ensuring he had enough slack in his mic cable as he worked the massive stage.
Released back in June in the UK, 48:13
has only now officially hit the states. The good news (or maybe bad news from a business standpoint) is that things like physical release dates don't keep the music out of the hands of fans these days. So when Kasabian pulled out bumblebeee, treat and eez-eh, the crowd already knew what was up. Heck, the reaction to bow … which even got the very pregnant woman in the VIP section on her feet … topped the reaction for what would be considered the classics such as Shoot the Runner and Fire.
For his part, guitarist/vocalist Sergio Pizzorno added to the lightness of the vibe and proved a nice balance to Meighan's more serious demeanor. A guy like Sergio on stage provides the crowd with more reason to let loose and let loose they did … jumping around, arms in the air. Impressively, he managed to somehow locate the one person in the audience from their hometown of Leicester.
The evening wrapped up with a four song encore punctuated by L.S.F. and proved that Kasabian are a band of pros that focused on the people that were in the audience instead of the people that weren't in the audience. No doubt if you were one of those people right up front, you probably walked away thinking that you just saw the best show of the year.
Supporting act: Bo Ningen
Setlist:
bumblebeee
Shoot the Runner
Underdog
stevie
Days Are Forgotten
eez-eh
bow
I.D.
Club Foot
Re‐Wired
treat
Goodbye Kiss
Fire
–Encore–
Switchblade Smiles
Vlad the Impaler
Praise You (Fatboy Slim cover)
L.S.F. (Lost Souls Forever)
More on Kasabian: Facebook | Website | Shows | Twitter | Instagram | Youtube
© 2014 Alan Snodgrass | www.digitaldiversion.net. Please do not use without express permission. If you like what you see, leave a comment below and subscribe so you can be notified of new posts. You can also become a fan on Facebook.