PUP and Mom Jeans. at Starline Social Club in Oakland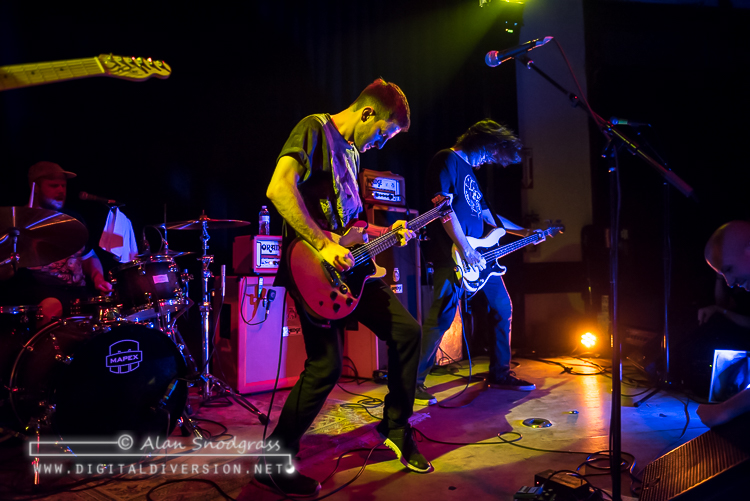 PUP and Mom Jeans. perform September 11, 2017 at Starline Social Club in Oakland, California
Toronto's PUP is ripping up the West Coast with a series of headlining shows that found them at Oakland's Starline Social Club on a muggy, yet stormy Monday night with local favorites and freshly-minted Side One Dummy label mates, Mom Jeans.
The unseasonable mugginess outside seemed to be amplified in the upstairs hall and the gathering crowd seemed to gravitate towards the single fan blowing air from the outside. But by the time Mom Jeans hit the stage, folks seem to have pretty much given up on any pretense of trying to stay cool; they were going to give their hometown boys proper support during their 35 minute set that had the now-packed room singing along. It's hard to imagine that there could have been a better supporting band for this show.
PUP finally took the stage around 10 pm as the sold-out room collectively edged closer to the stage. Frontman Sefan Babcock was all smiles and downright disarming as he casually eased his guitar strap over his shoulders, presenting no sign of the chaos that we about to ensue. And then … boom! The entire room lit up as the band launched into "Guilt Trip" off their breakthrough self-titled debut.
The Oakland crowd was no-doubt already familiar with their latest release, "The Dream is Over," from which the majority of the setlist was pulled. And while folks seemed to savor an occasional break from the sweaty mob for a drink from the water fountain at the bar, once hydrated it was straight back into the froth. And aside from a few folks filming during "Reservoir," people pretty much kept their cell phones tucked safely away and enjoyed the whole show unencumbered.
The set flew by in spite of the heat which left everyone in the room … even those furthest from the stage … dripping wet. Come back soon, PUP. Two years is way too long.
Mom Jeans.
www.facebook.com/momjeansca
© 2017 Alan Snodgrass | www.digitaldiversion.net. Please do not use without express permission. If you like what you see, leave a comment below and subscribe so you can be notified of new posts. You can also become a fan on Facebook.