Lords of Acid, Orgy, Genitorturers and Gabriel and the Apocalypse at the UC Theatre in Berkeley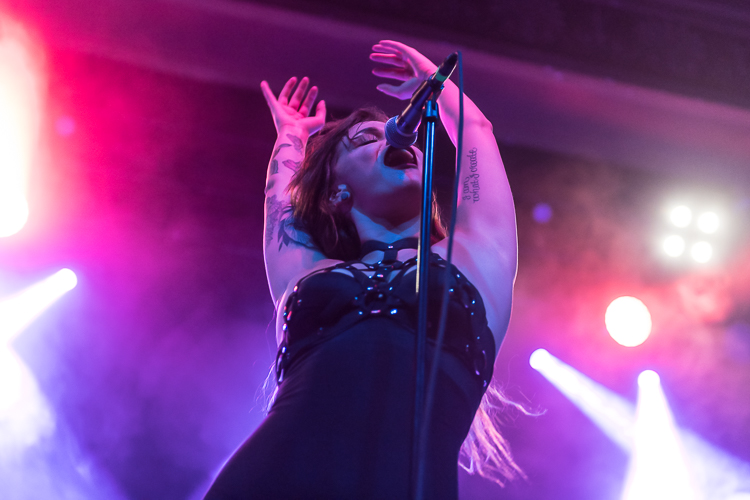 Lords of Acid, Orgy, Genitorturers and Gabriel and the Apocalypse perform February 24, 2109 at the UC Theatre in Berkeley, California

Lords of Acid is on the road on their "Pretty In Kink Tour, aptly named after their 2018 release including a stop and Berkeley's UC Theatre. While the UC felt a bit empty, those that ventured out on this Sunday night were rewarded with a solid four hours of thumping industrial and plenty of the extra elbow room to .
The evening kicked off with Gabriel and the Apocalypse's fiery opening set which teed things up perfectly for Genitorturers signature, over-the-top BDSM-themed performance which featured plenty of props.
Orgy kept the momentum up and, in spite of having his last foot in a cast (or was that some sort of impractical goth footwear), frontman Jay Gordon took a spin through the crowd for their set closer, New Order's "Blue Monday."
11 pm and it was finally time for headliners Lords of Acid to take the stage. Out first was Praga Khan, keyboardist and genius behind the band's amazing 30 year legacy. Smiling and waving at the crowd before settling in with his leg dangling over his keyboard as vocalist Marieke Bresseleers strolled out. Those paying attention might have noticed none other than Sin Quirin of Ministry and Revolting Cocks fame rounding out the lineup on guitars.
The hour-plus set flew by with the crowd lulled into trance by Bresseleers' vocals that clearly impressed even Khan, who would step out from behind the synth to admire her work up close.
Alas, all things must come to and end but the "Pretty In Kink" tour isn't one of them. The tour runs through the end of March where it ends in Las Vegas.