Cokie the Clown, Dead Sound and Paper Dolls at the Great American Music Hall in San Francisco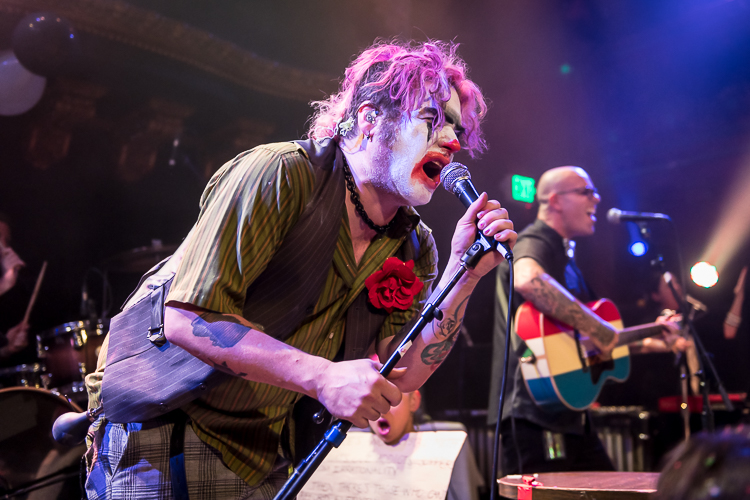 Cokie the Clown, Dead Sound and Paper Dolls perform April 20, 2019 at the Great American Music Hall in San Francisco, California
Fat Mike from NOFX's alter ego Cokie the Clown has a new album set to drop April 26. The first Cokie the Clown full length, "You're Welcome" was vodka and emotion-fueled and rawness oozes from the grooves.
Ahead of the release, Cokie has lined up a few rare shows including a 4/20 performance at San Francisco's Great American Music hall along with openers Paper Dolls and Dead Sound.
Certainly not for the faint of heart, the 18 and over show had Cokie and the Fentanyls taking the stage at 10:45 pm to a packed house of NOFX fans and curiosity seekers, vying for the rare Cokie sighting, this evening marking his third ever appearance.
Deep, dark, ugly and raw, Mike warned the crowd of what was in store before opening with an a cappella "Bathtub" before segueing into "Fair Leather Friends." Reacting to the hurt in that sad clown, a few audience members shouted, "we love you Mike," as it was the closest they could get to giving the guy a hug.
But the evening wasn't a complete downer. "Punk Rock Saved My Life," the first public release from "You're Welcome," the got the crowd singing and dancing and the occasional clown gag lightened the mood. Talli "Nubs" Osborne even joined for a few songs with lyrics cards as the "Talli-Prompter" (insert clown horn honk here).
The backing band, The Fentanyls, featured Johnny Carey (Old Man Markley), Joe Raposo (Lagwagon), Karina Deniké (Dance Hall Crashers/NOFX), Danny Lohner (Nine Inch Nails/A Perfect Circle), "Baz" Brisson and a string section featuring Dina Maccabee and Chris Votek aka "Cello Biafra." This was not some hastily assembled schlock, but rather a well-orchestrated performance that, love it or hate it, was guaranteed to leave people talking.
In case you were still wondering how Mike really felt about those he feels betrayed by, the 75 minute set wrapped with "Fuck You All." It doesn't really get more direct than that. Next stop for Cokie and the Fentanyls … the Whisky A Go Go on April 22. Be forewarned, it's not going to be pretty.
Setlist:
Bathtub
Fair Leather Friends
Cokie the Clown
That Time I Killed My Mom
Bob Denver
Punk Rock Saved My Life
Swing and a Miss
Down with the Ship
Negative Reel
Doornails
Pre Arraigned Marriage
Fuck You All