Slipknot, Volbeat, Gojira and Behemoth at the Shoreline Amphitheatre in Mountain View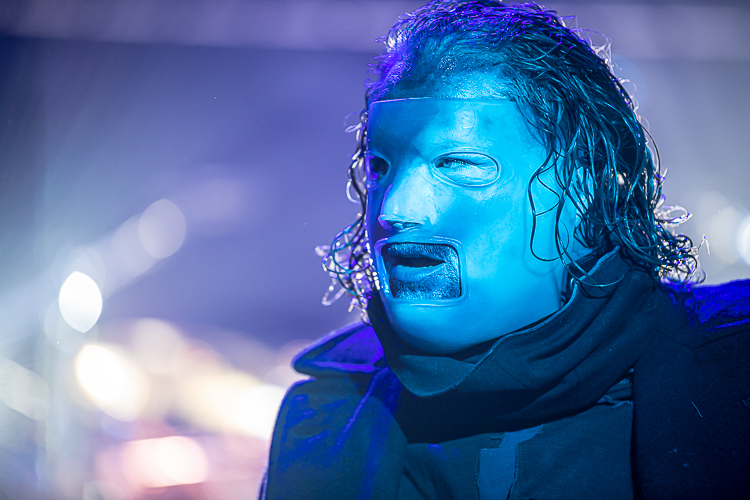 Slipknot, Volbeat, Gojira and Behemoth perform July 26, 2019 at the Shoreline Amphitheatre in Mountain View, California
Slipknot is back with a new album, and apparently not content with one-off festivals, they have taken their legendary Knotfest on the road with Volbeat, Behemoth, Gojira and Behemoth. The Road to Knotfest Tour kicked off in front of a packed house on a balmy Friday night at the Shoreline Amphitheatre, harkening back to the epic days of the Mayhem Festival.
Behemoth kicked things off at 5:30 pm in front of an already packed-house with a blistering set complete with plenty of flames and blood that got the pit action started on the lawn as folks in the seats rocked along. Gojia kept the momentum going with the beating sun still punishing the stage, replacing the fire from Behemoth's set with a layer of fog that covered the stage while blasts of frozen nitrogen thankfully cooled the front rows.
Next up, Volbeat from Denmark, a band that seems to have abandoned its metal roots over the last few years yet still knows how to work a crowd, including none other than Guy Fieri who took a journey from Flavortown to rock out against the barricade. Say what you will about these guys but "Still Counting" remains a favorite.
With a giant "Slipknot" banner draped across the sage, the crew set to work preparing for the headliner's return to Mountain View in front of an eager crowd, many dressed and masked for the spectacle that was about to unfold. AC/DC's "For Those About to Rock (We Salute You)" blasted over the PA, prompting the audience to take their feet for the drop of the curtain which revealed the true expanse of the Shoreline stage which had previously been hidden behind the openers' backdrops. The Shoreline crowd went nuts as the band took the stage, wearing their new masks and launching right into fan favorite "People = Shit."
Slipknot's 90+ minute set was a spectacle, even by their own metrics.; fire squirted from the back of the stage and each of the band members abandoned their respective stations at various points in the night to prowl the stage as they tore through a heavy dose of material from their latest album along with the classics.
Slipknot live rarely disappoints and their Road to Knotfest kickoff made it clear that this band continues to up the ante as they once again take to the road.
Slipknot Setlist
• People = Shit
• (sic)
• Get This
• Unsainted
• Disasterpiece
• Before I Forget
• The Heretic Anthem
• Psychosocial
• The Devil in I
• Prosthetics
• Vermilion
• Custer
• Sulfur
• All Out Life
• Duality
Encore
• Spit It Out
• Surfacing
• 'Til We Die