Tears For Fears and Garbage at the Concord Pavilion in Concord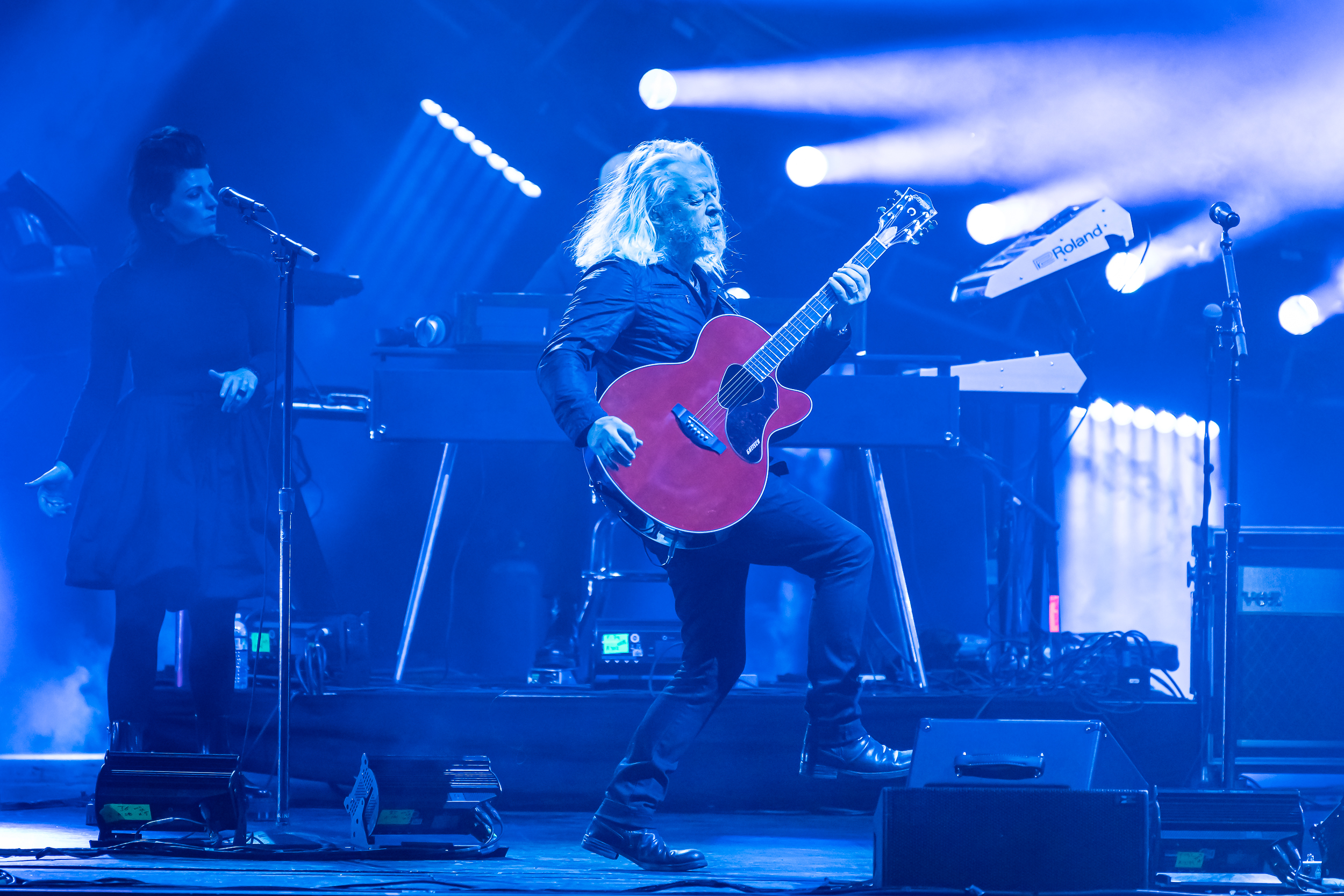 Tears For Fears and Garbage perform June 1, 2022 at the Concord Pavilion in Concord, California
---
Tears For Fears has a new album and as Curt Smith (apparently the master of the understatement) was quick to point out to the Concord California crowd, that's not something that the band does frequently. Indeed The Tipping Point is the band's first release since 2004 and enough of a reason to celebrate that Tears For Fears booked a pair of Bay Area dates.
Kicking off the evening with a generous 55 minute set was Garbage who took the stage at 7:30 as the crowd continued to gather and absolutely blew the roof off of the Concord Pavilion, Shirley Manson sailing almost perfectly through the set with spot-on vocals while making it all look easy. Why almost? Manson inconceivably sang over the guitar solo for "Only Happy When It Rains," arguably the song that's been performed more than any other Garbage tune in history. Acknowledging the gaff, it was back to business and as the cliché goes … would prove to be a tough act to follow.
A quick clearing of the Garbage equipment to TFF oddly being played over the venue soundstage had Tears For Fears taking the stage promptly at 9 pm and busting into "No Small Thing," the first track off of The Tipping Point. As Smith later pointed out, The Tipping Point is an "album" that's meant to be played in the order it was intended at which point it became abundantly clear that the Concord crowd was going to get a healthy dose of the new material. But never fear, smattered amongst the new classics were the old classics that got folks out of their seats and singing along from "Everybody Wants to Rule the World" to "Shout" and everything in between.
The band sounded absolutely fantastic. Roland Orzabal and Curt Smith shared vocal duties and haven't seemed to miss a beat in their 40+ years together … vocal range and power undiminished with time. And of course with the big stage came big production, the round screen encircled with a circular lighting rig ensured that the visual experience went hand in hand with the music and that everyone as far back as the lawn shared the full experience.
Certainly a long time in the making, The Tipping Point and its subsequent tour have been most certainly worth the wait.
Tears For Fears Setlist
No Small Thing
The Tipping Point
Everybody Wants to Rule the World
Secret World
Sowing the Seeds of Love
Long, Long, Long Time
Break the Man
My Demons
Rivers of Mercy
Mad World
Suffer the Children
Woman in Chains
Badman's Song
Pale Shelter
Break It Down Again
Head Over Heels / Broken
Encore
Tears For Fears
Garbage
© 2022 Alan Snodgrass | www.digitaldiversion.net. Please do not use without express permission.