Sabaton and Epica at Fox Theater in Oakland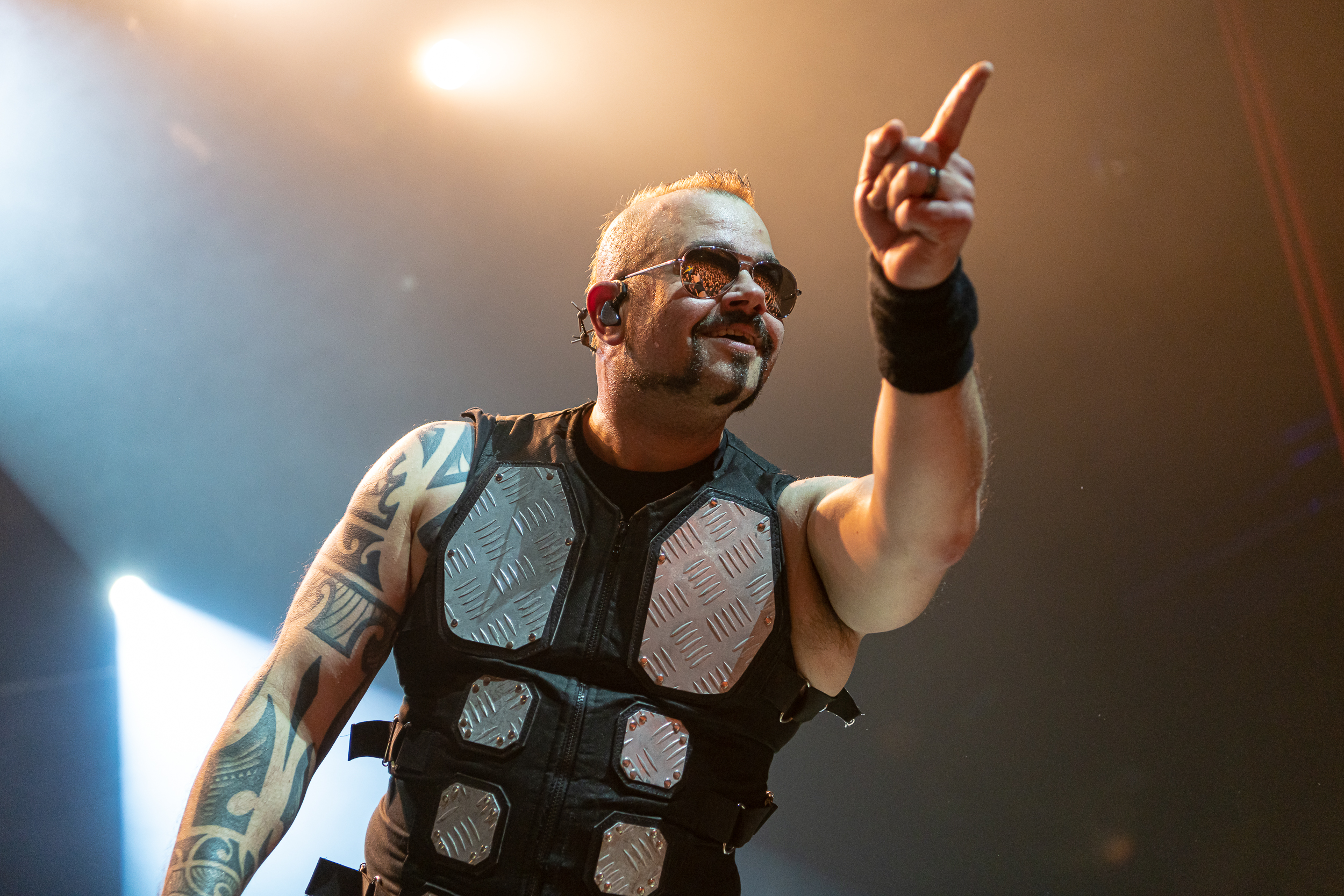 That fact that "battle metal" exists as a subgenre of power metal shouldn't come as a surprise to anyone. Afterall, Iron Maiden has had a massively successful career writing songs about historic events and literally allusions. What may be unexpected, however, is how incredibly passionate the Bay Area fanbase is for Sabaton who brought their "Tour to End All Tours" to Oakland California on a relatively quiet Wednesday evening along with openers Epica.
Symphonic metallers Epica kicked things off promptly at 8 pm to an enthusiastic crowd, Simone Simons' operatic vocals meshing perfectly with Mark Jansen's growls as the band ripped through their 60 minute set . While there may have been more Sabaton fans in the room based on an informal survey of t-shirts, but the audience was more than happy to jump for "Beyond The Matrix" (especially if the extra exercise meant an excuse to down another beer) and was in on the wall of death for their set closer, "Consign to Oblivion." They were pretty much the perfect opener for what was to come and clearly didn't mind playing behind the barbed wire strung across the front of the stage at all.
Sabaton kicked things off before taking the stage with an intro video advocating for the building of a WWI memorial in Washington DC. Probably a first for most in the room but given that many arrived wearing battle garb seemed to be well-received with the majority of folks non-plussed. Afterall, Sabaton was about to take the stage and the tank-shaped drum riser which had just been uncovered by the crew was a massive teaser for what was to come.
Storming the stage wearing matching fatigues and "Swedish War Machine" shirts, Sabaton tore right into fan-favorite "Ghost Division" off of "The Art of War." Let's just say that what the Oakland crowd lacked in ticket sales they more than made up for in passion. The entire general admission floor was singing along, and loudly! And they didn't stop! To be honest the band actually looked a little shocked at the response. And while Sabaton is no stranger to the Bay Area, this particular show seemed to take things to another level leading to vocalist Joakim Brodén turning to Pär Sundström after "Stormtroopers" and exclaiming, "we should play the Bay Area more often!" You can guess how that went over with the crowd.
Sabaton further endeared themselves to the Bay Area folks when drummer Hannes Van Dahl paid his respects to local metal heroes Metallica, Exodus and Testament while humorously pointing to Sweden's claim to fame … Ikea. For the encore the band even busted out a bit of "Master of Puppets" before wrapping the evening with "To Hell and Back."
The band's latest studio release "The War to End All Wars" dropped this past March and it was clear that the Oakland crowd had studied up. None of that staring blanking waiting for the hits as the band played an unrecognizable new song; it was clear that the fans were all-in on the new release and fully embraced "Dreadnought," "Soldier of Heaven," and "Christmas Truce" in the context of the broader catalog.
All-in-all it was a surprisingly good night both on stage and off, and it would be surprising not to see Sabaton back in the Bay soon.
---
Sabaton
Sabaton Setlist:
Ghost Division
Stormtroopers
The Red Baron
Bismarck
The Attack of the Dead Men
Soldier of Heaven
Steel Commanders
Carolus Rex
Gott mit uns
Night Witches
Dreadnought
Shiroyama
The Last Stand
Christmas Truce
Encore:
Primo Victoria
Swedish Pagans
Master of Puppets
To Hell and Back
Epica
Epica Setlist:
Abyss of Time – Countdown to Singularity
Sensorium
Victims of Contingency
Unchain Utopia
Cry for the Moon
Storm the Sorrow
Code of Life
Beyond the Matrix
Consign to Oblivion
© 2022 Alan Snodgrass | www.digitaldiversion.net. Please do not use without express permission.