Bad Religion | April 17, 2013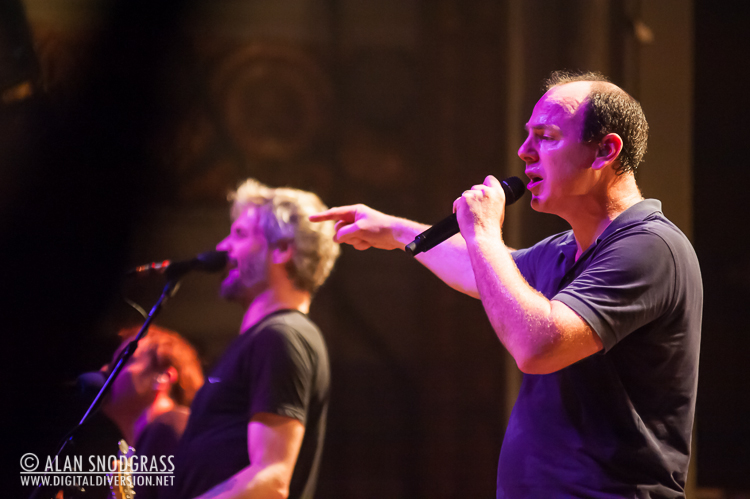 "True North American Tour 2013"
Bad Religion returned to San Francisco with a sold-out show in support of their latest release, True North
… a show that likely could have been bumped up to a larger venue but no doubt benefited from the close-quarters of the Regency.
San Francisco is a tough city to be a supporting band for a Bad Religion; shows sell out quickly and fans line up early for that coveted spot on the rail. So when 8 pm rolled around and Polar Bear Club (gallery) took the stage, the front of the auditorium was packed but the crowd remained sedate but polite as they waited patiently for the headliner. As if to underscore the point, the by-then-packed crowd largely stood stone-faced as The Bronx (gallery/setlist) ripped through a searing 45 minute set which included 5 songs off their latest masterpiece, The Bronx (IV)
.
Bad Religion took the stage at 10 pm and what would previously have been described as a pretty passive crowd went nuts to Past is Dead off of True North. Hetson was in a particularly jumpy mood, pacing from front of stage to back before launching one of his signature moves. The setlist was massively revamped from the last time Bad Religion hit San Francisco and, while leaning heavily on the new release, provided a little something for everyone while skipping some notables (Los Angeles is Burning, Let Them Eat War, Modern Man, A Walk…).
As a surprise, Fat Mike from NOFX briefly hopped on Jay's mic during 21st Century (Digital Boy), but otherwise the show was expected … rapid-fire delivery, Graffin between-song musings and a frenetic crowd singing along to every word. The night wrapped up with Jay and Brian, who always seem to be the last ones off the stage, closing out the night with a cool slow jam on Dept. of False Hope before saying their goodbyes. You really couldn't ask for more.
Show stats:
32: number of years that Bad Religion has been at it
0: number of tickets available anywhere for this show
30: number of songs on the setlist
3: average song length during the 90 minute set
1: photographers shooting the show
14: retail price in dollars of the IPA that soaked the 1 photographer during third song
1230: number of audience members that need to go buy the new Bronx album right now
Setlist:
Past is Dead
We're Only Gonna Die
New Dark Ages
True North
Anesthesia
Generator
I Want to Conquer the World
21st Century (Digital Boy)
Overture/Sinister Rouge
Fuck You
Dharma and the Bomb
Recipe for Hate
Suffer
Sanity
Nothing To Dismay
You
Do What You Want
No Direction
Beyond Electric Dreams
Submission Complete
Come Join Us
Against The Grain
No Control
Changing Tide
American Jesus
Sorrow
–Encore–
Fuck Armageddon … This is Hell
Vanity
Infected
Dept of False Hope
Supporting acts: The Bronx, Polar Bear Club
© 2013 Alan Snodgrass | www.digitaldiversion.net. Please do not use without express permission. If you like what you see, leave a comment below and subscribe so you can be notified of new posts. You can also become a fan on Facebook.