Vans Warped Tour | June 22, 2013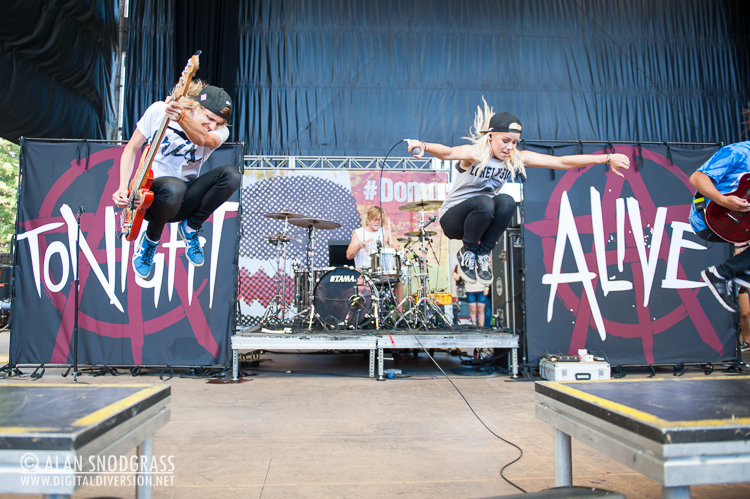 performs June 22, 2013 on the Vans Warped Tour at the Shoreline Amphitheatre in Mountain View, California
The Vans Warped Tour keeps rolling along with another well-executed tour and as a diverse a line-up as we've seen a recent years, once again proving that there's a huge market for music that never seems to hit the local airwaves. Six hours at Warped was enough for this writer which left a lot unseen, but let me boil it all down …
5 Bands Worth Checking Out:
Emily's Army: The next generation of pop punk with catchy hooks and infectious on-stage energy out supporting their latest release, Lost at Seventeen.
Beware of Darkness: This band is nothing you might infer from the name. Frontman Kyle Nicolaides is the Jimmi Hendrix of Warped and played to a woefully small crowd at the Shoreline.
Tonight Alive: Pop punks out of Australia with attitude and a great live set who are repeat visitors to the Warped Tour for obvious reasons (once you've seen them).
Chiodos: At the risk of stating the obvious … recently reunited with original frontman Craig Owens, these guys are better than ever.
Black Dahlia Murder: The Warped Tour seems a little light on the metal this year; check these guys out to get your fix.
New Years Day: These guys get a special mention for reinventing themselves over the last two years since they played Warped. Worth checking out if you haven't seen them lately.
5 Tips for Surviving Warped:
Get There Early: The VWT schedule is different every day so you're not going to know when your favorite band is playing until you get there. If there's a band that you must see, plan on getting their early or risk missing them.
Plan Your Day: Once you're inside, the chaos takes over. Take a minute to plan out your day … $2 for a printed schedule and map is a worthwhile investment or if you're cheap, snap a picture of the master schedule that's across from the main stages.
Cut The Line: The great thing this year is that you can cut the line without being a total dick. For a donation of $5 or 3 cans of food to Feed Our Children Now, you can spare yourself the agony of that monstrous line wrapping its way out to the parking lot. At the Mountain View stop, the line to donate at the time doors opened was about 10 people long. You can read more about it here.
Be Flexible: Despite getting through the doors early and having your day planned out, chance are that you're not going to see everything you want. Take some time to wander off to the side stages where there are some very cool acts and do not neglect the "Acoustic Basement Stage" but be prepared that space is extremely limited (especially if you want to catch that Craig Owens set).
Hydrate: New this year is a Sigg-sponsored hydration station where you can fill any container with cold, filtered water for free. If you don't have a bottle, you can pick up the official Warped Tour Sigg bottle for a very reasonable $10. Hopefully next year they'll add another station or two because one was not enough.
Bonus Tip: The same booth that's selling schedules for $2 will also charge your cell phone for $5. Don't want to spend the cash? Head on over to the "Insidious 2" for some shade and a free charging station (capacity is limited). Or buy one of these bad boys.
Photo Galleries:
© 2013 Alan Snodgrass | www.digitaldiversion.net. Please do not use without express permission. If you like what you see, leave a comment below and subscribe so you can be notified of new posts. You can also become a fan on Facebook.