Between the Buried and Me | September 30, 2013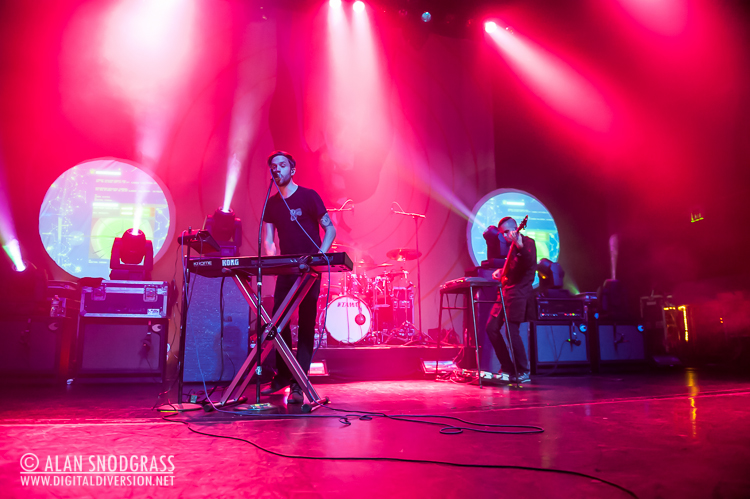 Between the Buried and Me perform September 30, 2013 at the Regency Ballroom in San Francisco, California
Between the Buried and me has hit the road, giving their fans a bit of a treat, performing "Future Sequence" in its entirety. Taking along for the ride The Faceless, The Contortionist and The Safety Fire, the Monday night show at San Francisco's Regency Ballroom proved to be full of high-slung guitars, on-stage noodling and lots of dudes with facial hair on the floor.
During The Safety Fire and The Contortionist, the crowd remained relatively sedate but you could feel the pent-up need to bust out a mosh every time the tempo picked up and the vocals broke into a scream. By the time the Faceless took the stage, one might have believed that the crowd which packed the ballroom floor had come solely for them … fans going bonkers from note one … singing along and head-banging furiously. Between the Buried and Me had nothing to worry about though … when the lights dimmed 15 minutes ahead of their scheduled set time, the crowd went nuts and started chanting, "BBM" and the place literally erupted for "Goodbye to Everything" with more-than-energetic singing complete with hands clawed with emotion.
With the band performing "Future Sequence" in its entirety, the crowd got exactly what they came for … 80-ish minutes of seething prog metal heaviness.
Supporting acts: The Faceless, The Contortionist, The Safety Fire
Setlist:
Goodbye to Everything
Astral Body
Lay Your Ghosts to Rest
Autumn
Extremophile Elite
Parallax
The Black Box
Telos
Bloom
Melting City
Silent Flight Parliament
Goodbye to Everything Reprise
–Encore–
© 2013 Alan Snodgrass | www.digitaldiversion.net. Please do not use without express permission. If you like what you see, leave a comment below and subscribe so you can be notified of new posts. You can also become a fan on Facebook.