My Goodness | February 10, 2014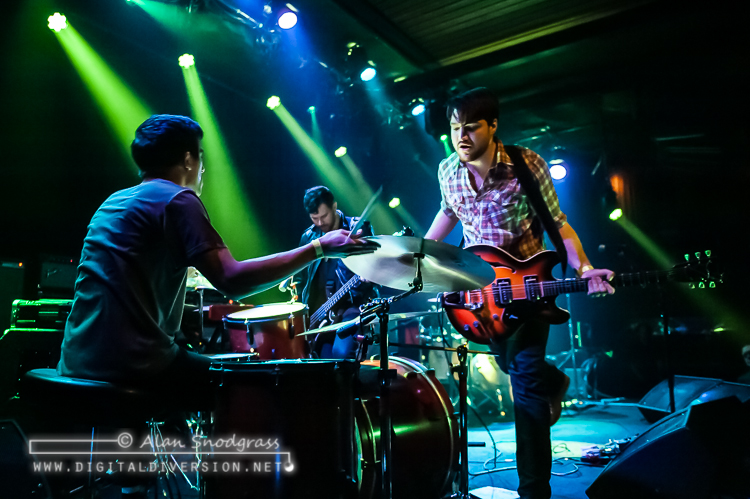 My Goodness performs February 10, 2014 at the Independent in San Francisco, California
Anyone covering the music industry can attest to the daily barrage of emails promoting band after band … so many so that there are not enough hours in the day to listen to new releases much less give each pitch a proper read. The reality is, it's not all good. However, there are great bands out there that you've never heard of, and finding a nugget in the midst of the chaff is what keeps us all looking.
Which brings us to My Goodness. A Seattle-based duo consisting of Joel Schneider (guitar/vocals) and Andy Lum (drums) who have recently embarked on their first national tour in support of Augustines with Cody Votolato joining them on bass. Less than a minute into listening to the stream of Back Again, it was pretty clear that this was a band worth checking out live.
Monday night My Goodness hit the Independent in San Francisco and Digital Diversion was there to check them out. By the time their 8:20 set time rolled around, the Independent was filling up with the Augustines fans smart enough to arrive early. Fuzzed-up, blues-based rock and roll with a heavy dose of Seattle grunge influence … it was pretty clear from the get-go that no recording would ever do justice to this band's live show. The Lum / Votolato mind meld brought a fiercely heavy beat which gave Joel Schneider the freedom to riff and swagger like a pro, vocals powerful and on point and often reminiscent of an early Eddie Vedder.
It's easy for fans to turn their backs on an opening band but that was seemingly impossible last night. For all appearances, the audience was hooked the moment they stepped in the door … some forgoing their be-line to the bar to soak it all in … rapt the entirety of the 45 minute set. My Goodness arguably out-shined the headliner last night. Keep an eye out for these guys.
Setlist:
Check Your Bones
Back Again
Dance Hall
Cold Feet Killer
Un Poco
Shiver & Shake
C'mon Doll
Bottle
Say You're Gone
Sweet Tooth
In The Sun
© 2014 Alan Snodgrass | www.digitaldiversion.net. Please do not use without express permission. If you like what you see, leave a comment below and subscribe so you can be notified of new posts. You can also become a fan on Facebook.