Tom Petty and the Heartbreakers | October 5, 2014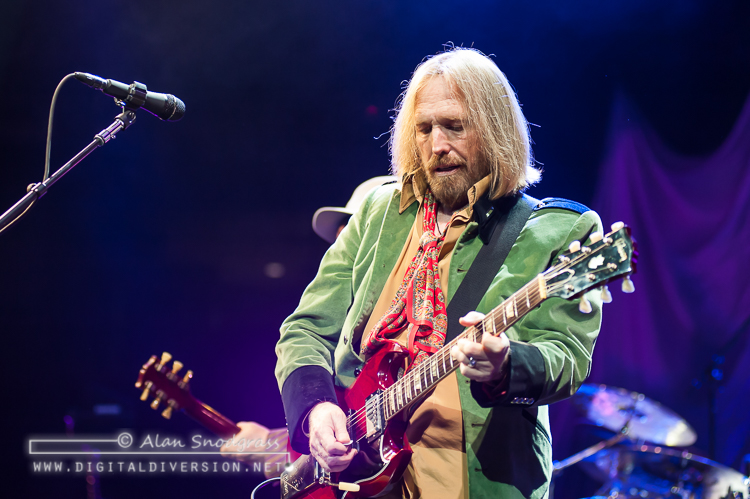 Tom Petty and the Heartbreakers
Tom Petty admitted it himself … it's been a while since he and the Heartbreakers have done a full tour. So with a new album out this past July (Hypnotic Eye
) it should come as no surprised that the SAP Center in San Jose was literally packed to the rafters in spite of the prospect of an early Monday morning back at work.
The evening started promptly at 7:30 with Steve Winwood who kicked off his set with the Spencer Davis Group's I'm a Man and proceeded to give the gathered crowd an hour of his best including Blind Faith, Taffic as well as his solo material. Starting the set on the organ, Winwood picked up his guitar and took center stage for an outstanding rendition of Blind Faith's Can't Find My Way Home but what started as a sedate, seated affair really kicked into gear with Low Spark of High Heeled Boys which finally got people out of their seats where they stayed throughout the remainder for the set.
The clear highlight of the set was when Winwood once again picked up his guitar for the Traffic classic, Dear Mr. Fantasy, which stayed true to the original (relative to some of the jazz-spun versions of the previous songs) and truly showcased Steve's chops on both vocals and guitar. Wrapping the set with Gimme Some Lovin' brought the house down and had the band taking their final bows to a standing ovation.
After a quick shuffle of equipment, Tom Petty and the Heartbreakers took the stage full of smiles. Taking the "simple and elegant" approach to production, there were plenty of lights up top to keep the band in focus while the back of the stage was draped with a white curtain onto which was projected some ambient psychedelia.
Kicking off the set with a cover of The Byrds' So You Want to Be a Rock 'n' Roll Star, it became abundantly clear that the band was in it for the long haul. Petty strolled the edge of the stage during Campbell's solos, give a knowing nod and a smile to the folks up front against the barricade; there was no urgency, no rush, just six friends taking their time to do it right as they enjoyed portions of their last 20 to 40+ years together for the umpteenth time on tour.
As MC for the night Petty was gracious, endearing and downright funny at times, introducing Great Wide Open with the quip, "that's all I remember from 1991." It's this kind of casual rapport with both the crowd and the band that made even a packed arena show such as this feel intimate, even up in the nose bleeds.
For their part, the crowd was rapt. With a career spanning as many years as it does, it wasn't surprising to see the broad age range in the room. Thankfully, however, the fans came from a generation that is more likely to keep their phones in their pockets than try to film the entire show. On their feet, their focus was on what was happening on the stage at that moment and when Petty remarked, "we have a "rowdy bunch out there. So do you want to sing one together?" There wasn't a nanosecond of hesitation.
No stranger to the occasional cover song, the Heartbreakers took the occasion of Paul Revere's passing the day before to play the Raiders' (I'm Not Your) Steppin' Stone. "Paul Revere, we salute you wherever you are," said Tom as they ended the song.
Two-thirds into the evening, Petty set aside his Telecaster and picked up an acoustic guitar, "It's kind of quiet but if you listen closely you'll reap cosmic rewards." What came next was a truly inspiring version of Learning to Fly where Petty not only sucked the crowd into the song, but made them a significant part of it … sparing plenty of room for the audience's voices to be heard.
Seeing as the tour is in support of a new album, the Heartbreakers pulled out four new tunes which slid in so well between the classics that if you were a casual fan, you wouldn't have known they were only being played live on their first tour. Most surprisingly, Petty's star truly shined in the rare instance that he set aside his guitar … delivering a huge dose of uncharacteristic swagger along with I Should Have Known It.
Refugee and Runnin' Down A Dream brought the 1 hour 40 minute set to a close but the crowd was clearly not ready to go home … screaming at a fever pitch … cell phone lighting up the arena. When the Heartbreakers re-took the stage for their expected encore, it was clear that they weren't ready to go home either. You Wreck Me and American Girl (of course) wrapped the nearly 2 hour set.
Petty warned the crowd when they first took the stage to settle in for a long rock and roll show and he and the Heartbreakers certainly did not disappoint.
Setlist:
So You Want to Be a Rock 'n' Roll Star (The Byrds cover)
Mary Jane's Last Dance
American Dream Plan B
Great Wide Open
Forgotten Man
I Won't Back Down
Free Fallin'
(I'm Not Your) Steppin' Stone
A Woman in Love (It's Not Me)
U Get Me High
Rebels
You're So Bad
Learning to Fly (Acoustic)
Shadow People
I Should Have Known It
Refugee
Runnin' Down a Dream
–Encore–
You Wreck Me
American Girl
More on Tom Petty and the Heartbreakers: Facebook | Website | Shows | Twitter
© 2014 Alan Snodgrass | www.digitaldiversion.net. Please do not use without express permission. If you like what you see, leave a comment below and subscribe so you can be notified of new posts. You can also become a fan on Facebook.