Metallica at the Chase Center in San Francisco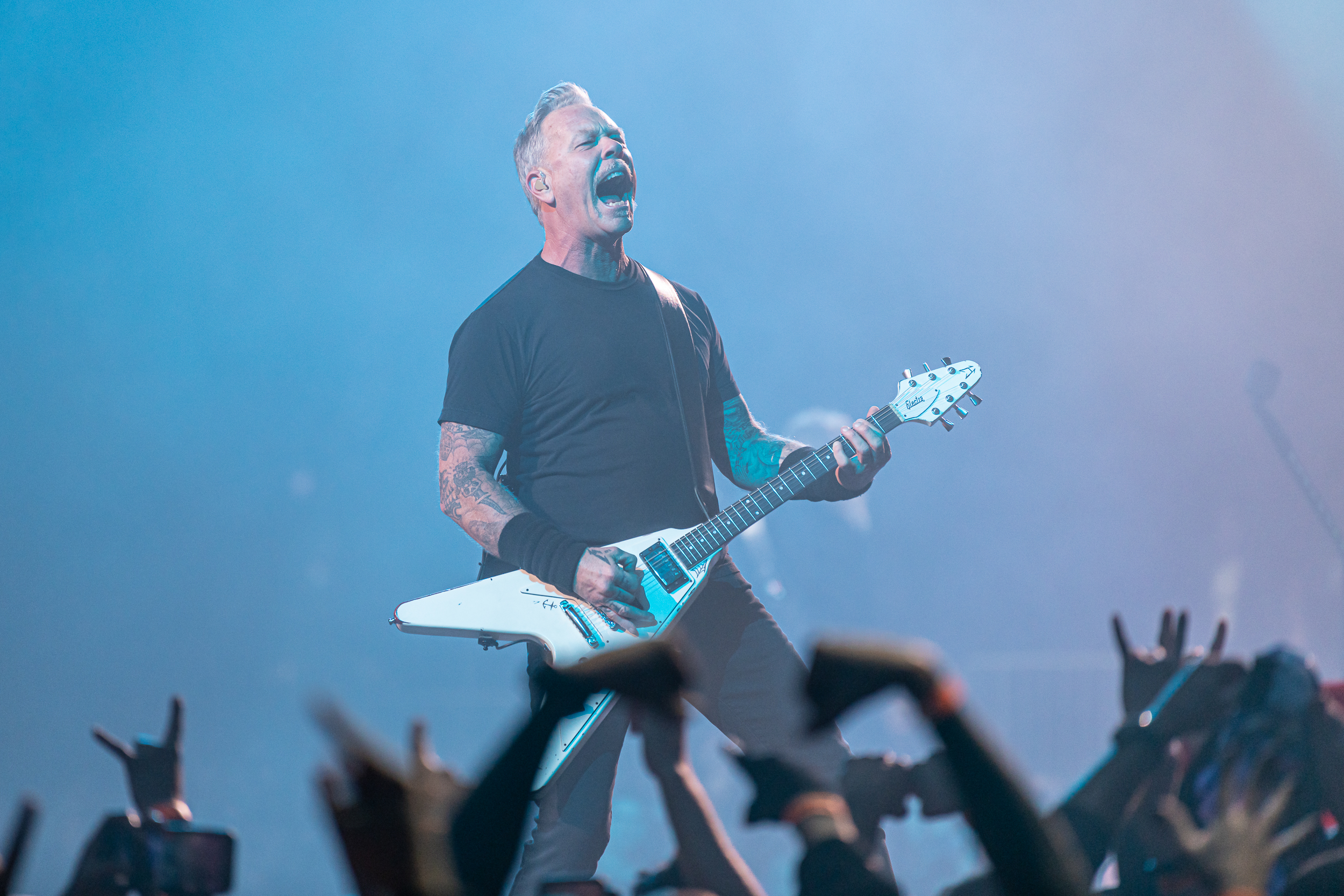 Metallica performs December 17, 2021 at the Chase Center in San Francisco, California
Metallica is turning forty! If band years were calculated similarly to dog years, that would make Metallica (breaks out calculator) pretty freaking old. Let's face it, the Four Horsemen have defied all odds by endured the ups and downs of being a band. From line-up changes to experimental music projects (LuLu) to putting all their shit out there for everyone to see (Some Kind of Monster) they're seemingly bigger than ever so it's not a surprise that they've taken this as an opportunity to thank their loyal fans.
Unlike the series of intimate gatherings that marked their 30-year anniversary, Metallica decided to be more inclusive this time around, literally taking over San Francisco for the weekend with a series of events, gatherings and community projects peppered between two mega-arena events at the Chase Center. All told, the festivities had fans traveling from around the world to participate.
Without an opening band, Metallica relied on comedian Dean DelRay and DJ Lord (Public Enemy) to warm up the crowd as they got their first glimpse of the stage. Historically big fans of playing in the round, Metallica unsurprisingly stuck with their tried-and-true approach, augmenting the production with massive curved LED screens of various sizes on which videos queued the arrival of the band. But there's nothing quite like "The Ecstasy of Gold" to trigger that pavlovian response in every Metallica fan's brain knowing that the band is about to take the stage as they join in singing.
Within the first few songs of their set it became quite clear to anyone paying attention that the band was working through their catalog chronologically, anchoring the set with "Hit the Lights" from Kill 'Em All before moving on to Ride The Lighting with "Creeping Death" and "Trapped Under Ice." Sticking with the plan, of course there was going to be material from Load, Reload and the oft-vilified St. Anger. A crushing version of "King Nothing" highlighted how underrated Load is but the real surprise in the set was about to arrive.
In some ways Metallica fans are collectors when it comes to hearing songs live, so this evening's reward was the live debut of "Fixxxer" which Hetfield introduced with, "after 40 years, there are still firsts" and later quipped, "now you know why," with a smirk. Unfortunately for the St. Anger fan in the room "" required a restart after a bit of a flub (Lars) but harkened back to 2008 when Metallica opened up their tour rehearsal at the Cow Palace to some lucky fan club members and had the same issue on the same song and quickly bailed. This time around they stuck it out.
Closing the night out with "Spit Out the Bone" it was clear that there was not going to be an encore as soon as a tech removed Hetfield's in-ear monitors. Instead, the band all took turns thanking the audience before peppering the front rows with handfuls of guitar picks and drumsticks, no doubt leaving the crowd wondering what was in store for Sunday night's return.
Setlist:
Hit the Lights
Creeping Death
Trapped Under Ice
Welcome Home (Sanitarium)
Orion
The Shortest Straw
One
Sad but True
Nothing Else Matters
King Nothing
Fixxxer
Breadfan (Budgie cover)
No Leaf Clover
Frantic
The Day That Never Comes
Spit Out the Bone
© 2021 Alan Snodgrass | www.digitaldiversion.net. Please do not use without express permission.