Five Finger Death Punch, Megadeth, The HU and Fire From The Gods at Shoreline Amphitheatre in Mountain View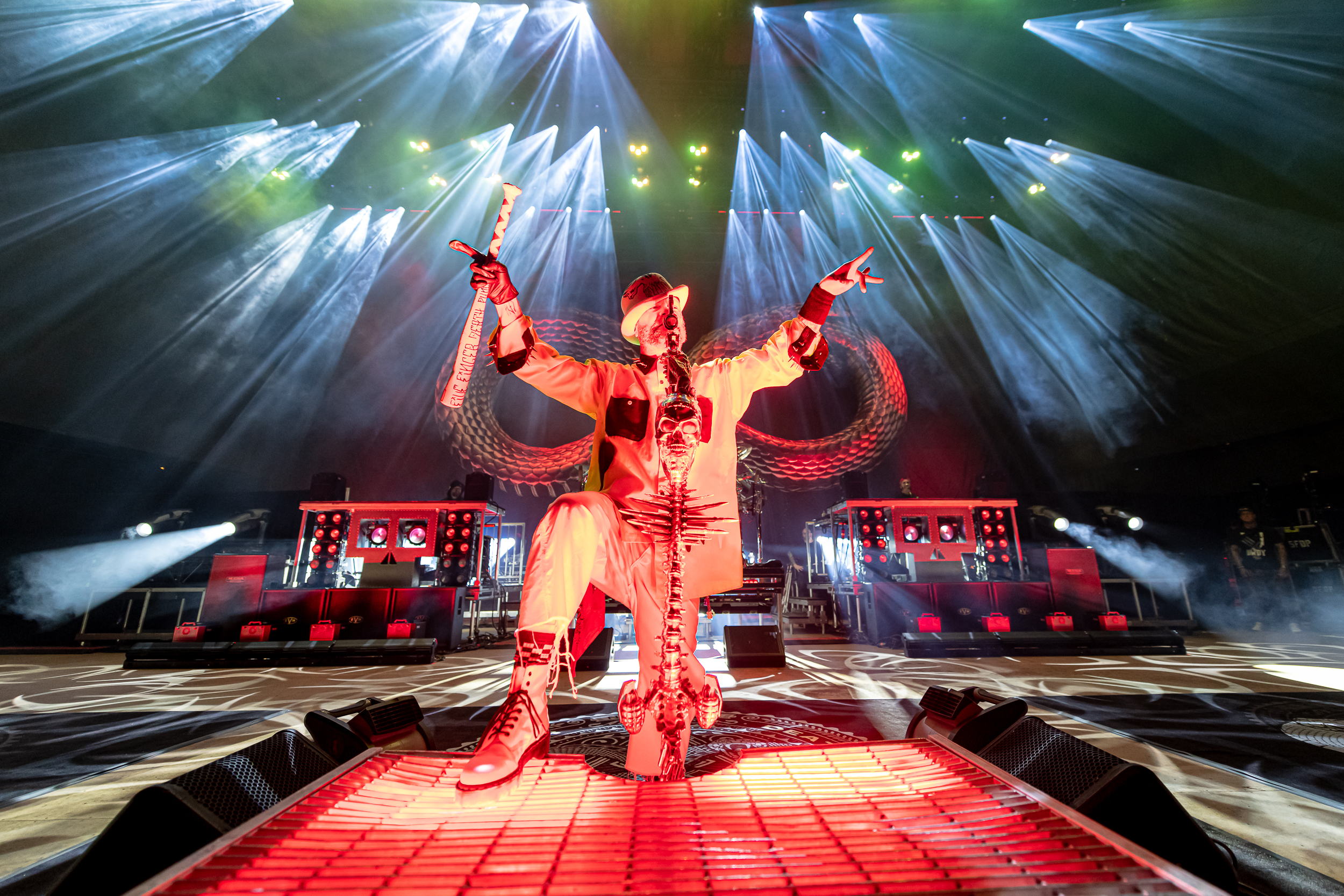 ---
With a new album hot off the presses, Five Finger Death Punch is determined to bring AfterLife to the fans. Kicking off their US Tour last weekend in Washington, FFDP has laid out a trek that will take them across the continent and back over the next four months including a stop at the Shoreline Amphitheatre in Mountain View, California.
The show kicked off early with Fire From The Gods in the unenviable position of playing directly into the beating sun as it slowly set behind the hills. As if to share the pain, the crowd got a healthy dose of that light reflected right back at them from Megadeth's stacks of fake Marshall amps.
The Hu took the stage as the sun finally set behind the hill providing much needed relief from eye strain both on stage and off. If you're not already familiar with The Hu, you need to fix that right now. Heavy metal played on traditional Mongolian instruments with a little extra punch from some modern enhancements singing in the universal language of METAL. Let's just say the buzz on this band is fully warranted and it was very much worth the wait.
Next up, the Megadeth with new bass player James Lomenzo back in the band in a permanent capacity after filling in last year as a result of Dave Ellefson's unexpected departure. With the stage cleared and the drum kit perched atop a wall of LED screens and Marshall stacks, Mustaine and his crew proceeded to roam the open stage, whip that hair around and pretty much shred. At this point the Shoreline seemed to have woken up … maybe the beers helped but Mountain View got freaking loud! Talk about the perfect tee up for the headliners!
The crew made quick work of the stage and unveiling what was behind the Megadeth Megawall. Apparently not fans of easing to things, FFDP attacked the stage with "Inside Out" and proceeded to whip the Shoreline crowd into a frenzy of singalongs and spilled beer. It's been a few years since the band hit the Bay Area so it was good to see newish members Andy James (guitar) and Charlie Engen (drums) meshing with long timers Ivan Moody, Zoltan "the ninja" Bathory and Chris Kael.
With a new album (AfterLife) about to drop the most surprisingly thing about the setlist was how little of it was dedicated to the new material. One might imagine that the band didn't want to dwell on material that was still unfamiliar with the benefits being 1) more of the classics and 2) an excuse to come back to the Bay Area soon.
Five Finger Death Punch
Megadeth
The HU
Fire From The Gods
© 2022 Alan Snodgrass | www.digitaldiversion.net. Please do not use without express permission.