VIO-LENCE, Skeletal Remains, Fueled By Fire and Phantom Witch at the Oakland Metro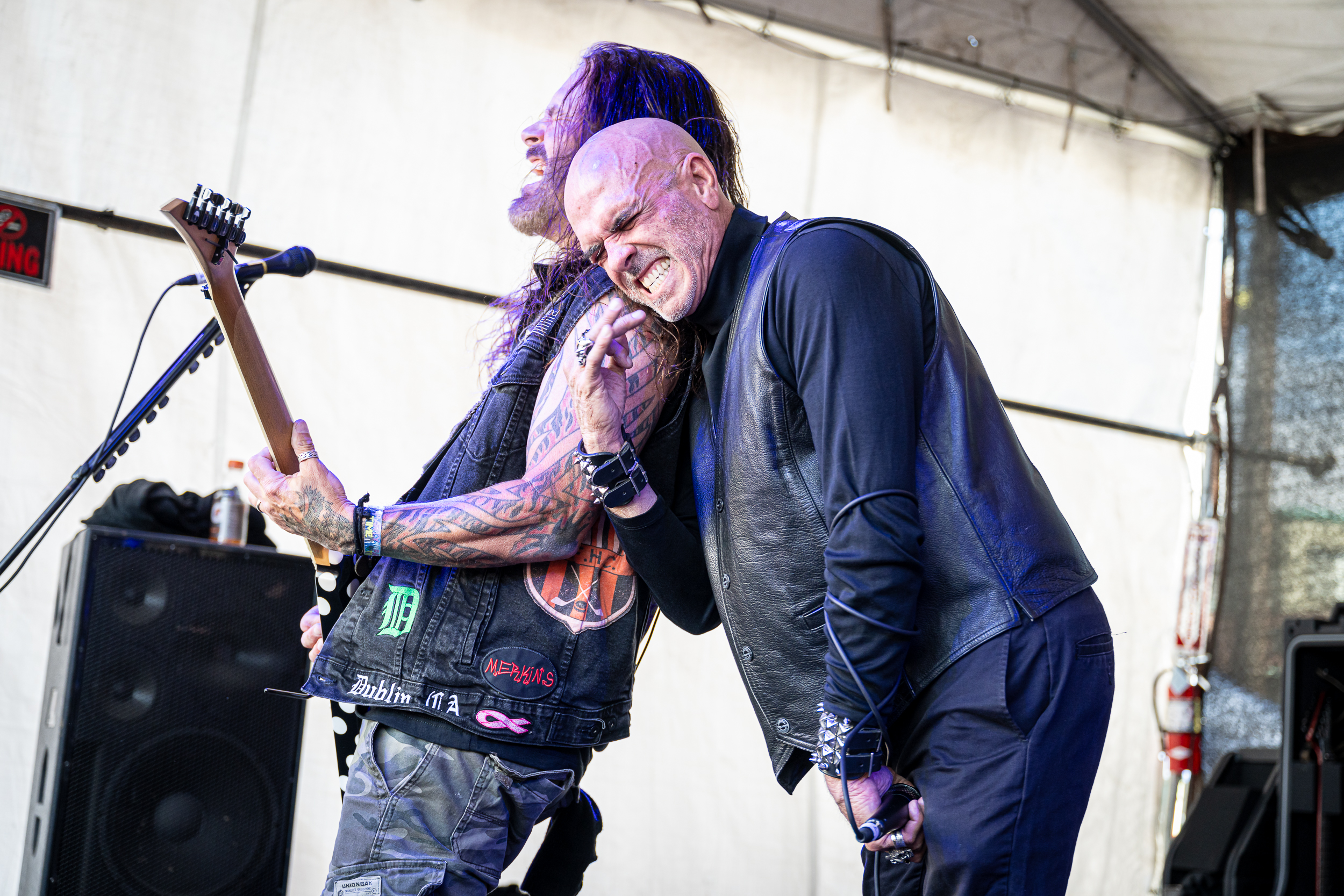 ---
The latest edition of the Oakland Metro's Sunday heavy metal matinee featured the return of VIO-LENCE celebrating 35 years of Eternal Nightmare at the corner of 3rd and Castro in Oakland. What that meant is that the local metal community showed up early to partake in some quality day drinking courtesy of Line 51 Brewing ahead of Phantom Witch's 2 pm opening set.
By the time Phantom Witch took the stage, the kids were ready to dance along queueing things up nicely for Fueled By Fire which mostly dodged some polite ribbing for the "LA" sticker on frontman Rick Rangel's Dodger blue BC Rich guitar. Indeed the crowd gave the visiting team quite the warm welcome. The fenced off street was starting to bust at the seams by the time Skeletal Remains took the stage and tore through their set. While there was massive respect shown, it was clear that Oakland showed up to experience the violence.
The lowkey set change immediate hit Richter 5 as VIO-LENCE blasted into "Eternal Nightmare," frontman Sean Killian (who took this opportunity to bring back the turtleneck) not only reveling in the ensuing chaos but doing his best to poor a little more fuel on the fire as the rest of the band head banged along.
VIO-LENCE OG Phil Demmel was on absolutely fire, playing with a fury and delivering a master class in thrash. With new faces Adrian Aguilar (Exmortus) joining in on drums and Ira Black on guitar, there was a distinct fervor of a band with something to prove as they more than did justice to the classics.
A "bit" (actually a lot) more rambunctious than the previous day's Yob/Pallbearer show, the crowd was in a constant spin as the Eternal Nightmare tunes gave way to "I Profit" from Oppressing the Masses. While the weather was a sunny mid-60's (i.e. perfect metal weather) it felt like the asphalt was starting to melt by the time the set wrapped up with "World in a World." Apparently that's what day drinking, pointy guitars and plenty of headbanging does.
VIO-LENCE Setlist:
Eternal Nightmare
Serial Killer
Phobophobia
Calling in the Coroner
T.D.S. (Take It as You Will)
Bodies on Bodies
Kill on Command
I Profit
Upon Their Cross
Officer Nice
Let the World Burn
World in a World
VIO-LENCE
Skeletal Remains
Fueled By Fire
Phantom Witch
© 2023 Alan Snodgrass | www.digitaldiversion.net. Please do not use without express permission.