Gone is Gone Featuring Members of Mastodon, QOTSA and At The Drive-In Release "Echolocation" Video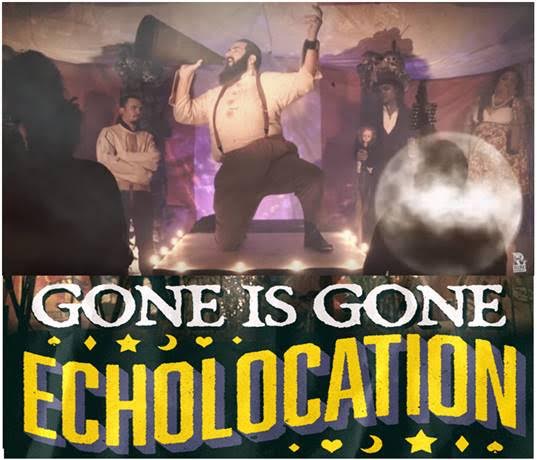 Gone is Gone Featuring Members of Mastodon, QOTSA and At The Drive-In Release "Echolocation" Video
GONE IS GONE has released "Echolocation," the grotesquely fun and bizarre companion video for their debut album's title track.
"The video is inspired by Gibsonton, Florida, the famous wintering and retirement home of traveling sideshow carnies," says GONE IS GONE vocalist/bassist Troy Sanders. "That's the backdrop for this cautionary tale about two punks out on an adventure ride. Through a series of events, the mischievous energy they exert returns full circle, eventually leading to their own demise."
The "Echolocation" video stars Sanders (in dual roles, playing "The Freak Show Barker" and "The Italian Crooner") and GONE IS GONE multi-instrumentalist/composer Mike Zarin (as "The Parasitic Twin Bartender") and was written, produced, directed and edited by Newmerica Media and filmed at Silver Scream FX Lab studios in Conley, GA.
"Without the magic of Newmerica Media & Silver Scream FX Lab, this video would never have seen the light of day," says Sanders. "They did an incredible job."
"Troy came up with the initial concept," says Newmerica director Bryan Bankovich. "Then we met with him for deviled eggs and whiskey to refine his vision. We had so many talented people working together to make this epic concept come to life. Production Designer and Art Director Shane Morton and his team were instrumental in making this video a reality. He was in charge of all the ridiculous props, SFX, and creatures you see on screen. And fun fact: Troy's two kids and wife are characters in the video, playing the wolf boy, orphan girl, and soothsayer, respectively."
Echolocation (Rise Records/Black Dune Records), GONE IS GONE's much-buzzed-about debut album, entered Billboard's Heatseekers Chart at No. 3. Prior to the album's release, the band sneak previewed several tracks, including "Dublin," "Gift" and Sentient."
Hailed by Clash as "a crisp, compact document, one laced with energy and sweeping songwriting," ECHOLOCATION was produced by the band and mixed by Ken Andrews (Beck, A Perfect Circle).
The quartet was formed by Zarin and At The Drive-In's Tony Hajjar, who previously collaborated on various film trailer projects for Sencit, Zarin's music production, licensing and supervision company. Together they've put together a wildly diverse sound production resume that includes trailers for the internet-breaking television series "Stranger Things," Christopher Nolan's 2010 sci-fi thriller Inception, multi-Emmy winning television series "Game of Thrones" and the Marvel Comics blockbuster film, "X-Men Apocalypse," to name but a few. They brought in Troy Van Leeuwen, known for his work with Queens of the Stone Age, Failure, A Perfect Circle, Eagles of Death Metal and Sweethead, who in turn, brought in Troy Sanders from multi-Grammy nominees Mastodon.
Gone Is Gone's roots are so unique, that their development comes from that creative, still burgeoning zone where music, film and multimedia joyfully collide in the studio. "We're not beholden to record/tour/record/tour," says Zarin. "For us it's write/record/experiment/write/record/experiment. We're laying the groundwork to do different things. Whether it's scoring a film, or just creating a tool kit for a filmmaker to use within their film, or an interactive experience. There are a lot of music artists that work with visual artists in a gallery space where they have audio and visuals connected. And we want to bring that with everything we do."