The Stadium Tour Featuring Mötley Crüe, Def Leppard, Poison, Joan Jett & the Blackhearts and Classless Act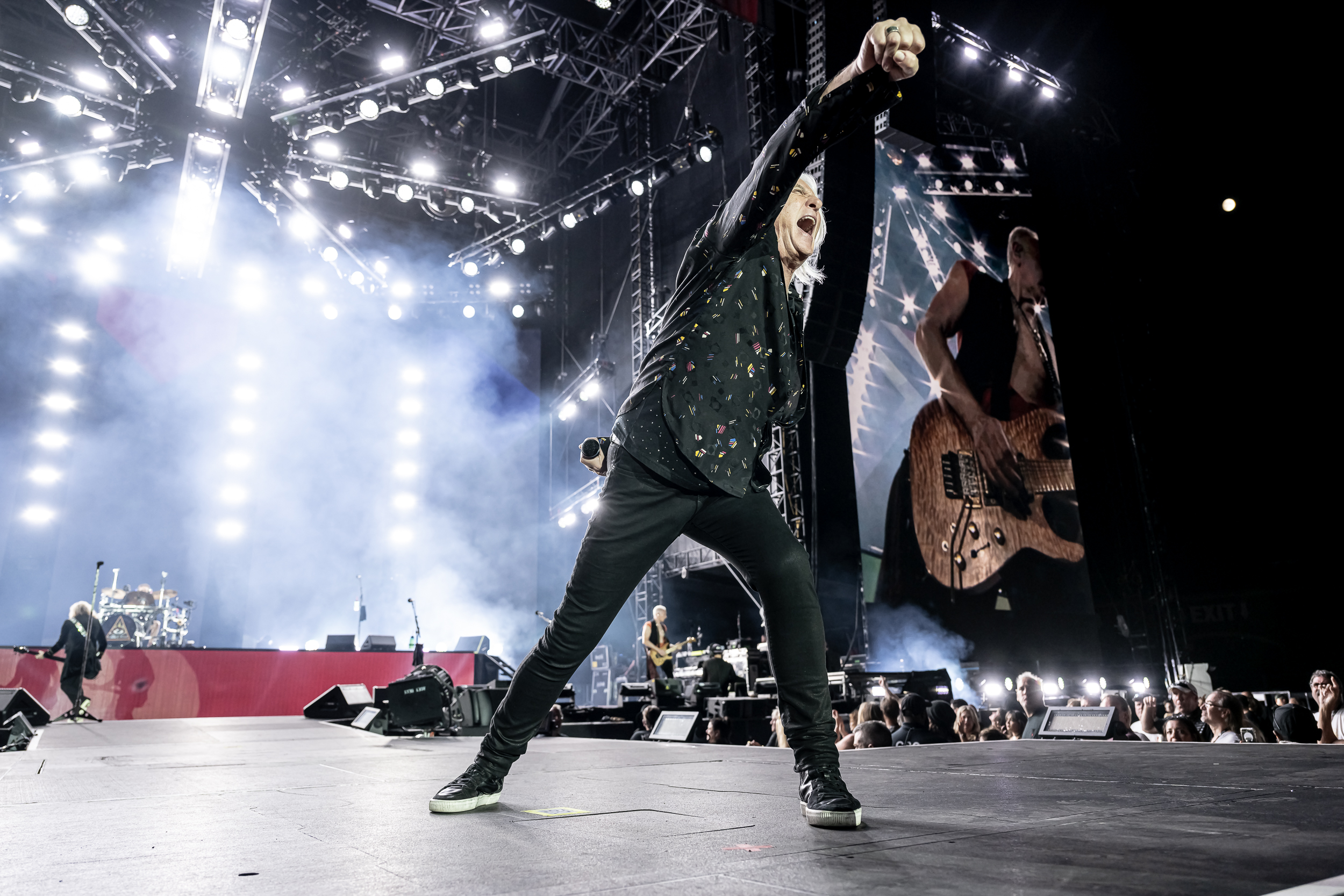 ---
I guess if you're going to tear up your retirement contract and go on tour you best do it up in grand fashion. So it was that Mötley Crüe and Def Leppard's "The Stadium Tour" was born but not without a few hiccups along the way. I mean who could have predicted when the tour was announced back in December of 2019 how things would unfold? July 19 of 2020 was rescheduled for September 10 of 2021 and after nearly three years of anticipation and delays, it finally hit San Francisco's Oracle Park on a Tuesday night in the midst of a historic heat wave. Even without the balmy weather things were pretty much guaranteed to get hot hot hot!
Classless Act kicked things off shortly after the doors opened and before the clock even struck 4 pm, performing in the beating afternoon sun that had those early entrants opting for whatever shade they could find. Not surprisingly vocalist Derek Day doffed his purple blazer early in the set as he worked the crowd from the end of the stage extension.
After a quick shuffle of equipment on stage it was time for the legendary Joan Jett & the Blackhearts. At 63 years old and sporting a purple and black cat suit Joan defied age as she tore through a career-spanning set that got the crowd on their feet.
With The Stadium Tour reaching the end of its run it was clear that the crew was operating as a well-oiled machine. With Poison up next, the heat started to subside and the dudes that chose to wear ironic heavy metal wigs appeared to be regretting their decisions a little less than they were only and hour earlier but maybe the beers also helped a bit in that regard. By this point folks had seemed to get out of work and Oracle Park was abuzz even before the band got a special intro by none other than the major of Flavortown himself, Guy Fieri! Say what you will about Poison there's no doubting the amount of effort they put into their set, frontman Brett Michael's fist bumping pretty much everyone in the front row with a long enough reach and the crowd ate it all up from the opener "Look What the Cat Dragged In" to the fan favorite "Nothin' but a Good Time."
Given that the tour was a co-headliner, Def Leppard and Mötley Crüe have been swapping slots which meant that the Crüe took the support slot in San Francisco. That's not to say however that they pulled out any of the stops as they tore through their set of classics, blasting the field with pink smoke before taking the stage and making full use of their backup singers/dancers throughout.
Given all the shit-talking leading up to this tour, Vince did a respectable job of keeping up which made for a pleasant surprise. Not that anyone seemed to care one way or the other … let's face it, people come for the party when Mötley Crüe is in town and this show was no different with many in the crowd proudly wearing their 2015 farewell tour shirts. Tommy Lee, hardly visible behind his uncharacteristically lowkey drum kit, stepped out front to successfully goad some dude in the audience to pull out his wiener for all to see on the big screen! Definitely a NSFW performance that was punctuated by "Kickstart My Heart" and a healthy dose of boom!
Last up, the mighty Def Leppard took the stage at 9:30 for what would prove to be the highlight of the very long day. Where Mötley Crüe brought the "raw edge," Def Leppard brought the "polish." This band has been around for 45 years, has had the same lineup for 30 years and is still putting out new music so it should come as no surprise that they absolutely crushed it with a career-spanning set that actually included three tunes from their May release, Diamond Star Halos. Of course there was no avoiding the hits and the crowd most definitely walked away satisfied after being pummeled by "Hysteria" into "Pour Some Sugar on Me" into "Rock of Ages" and finally "Photograph." What a way to end an epic day of rock and roll!
Def Leppard
Setlist:
Take What You Want
Let It Go
Animal
Foolin'
Armageddon It
Kick
Love Bites
Promises
This Guitar
Two Steps Behind
Rocket
Bringin' On the Heartbreak
Switch 625 (with Rick Allen drum solo)
Hysteria
Pour Some Sugar on Me
Rock of Ages
Photograph
Mötley Crüe
Setlist:
Wild Side
Shout at the Devil
Too Fast for Love
Don't Go Away Mad (Just Go Away)
Saints of Los Angeles
Live Wire
Looks That Kill
The Dirt (Est. 1981)
Rock and Roll, Part 2 / Smokin' in the Boys Room / White Punks on Dope / Helter Skelter / Anarchy in the U.K.
Home Sweet Home
Dr. Feelgood
Same Ol' Situation (S.O.S.)
Girls, Girls, Girls
Primal Scream
Kickstart My Heart
Poison
Setlist:
Look What the Cat Dragged In
Ride the Wind
Talk Dirty to Me
Your Mama Don't Dance (Loggins & Messina cover)
Guitar Solo
Fallen Angel
Unskinny Bop
Drum Solo
Every Rose Has Its Thorn
Nothin' but a Good Time
Joan Jett and the Blackhearts
Setlist:
Victim of Circumstance
Cherry Bomb (The Runaways cover)
Oh Woe Is Me
Do You Wanna Touch Me (Oh Yeah) (Gary Glitter cover)
You Drive Me Wild (The Runaways cover)
Fake Friends
Everyday People (Sly & the Family Stone cover)
Crimson & Clover (Tommy James & the Shondells cover)
I Hate Myself for Loving You
(I'm Gonna) Run Away
I Love Rock 'n' Roll (The Arrows cover)
Bad Reputation
Classless Act
Setlist:
This Is for You
Give It to Me
All That We Are
Haunting Love
Classless Act
© 2022 Alan Snodgrass | www.digitaldiversion.net. Please do not use without express permission.