Rancid, Dropkick Murphys and The Bronx at Frost Amphitheater in Palo Alto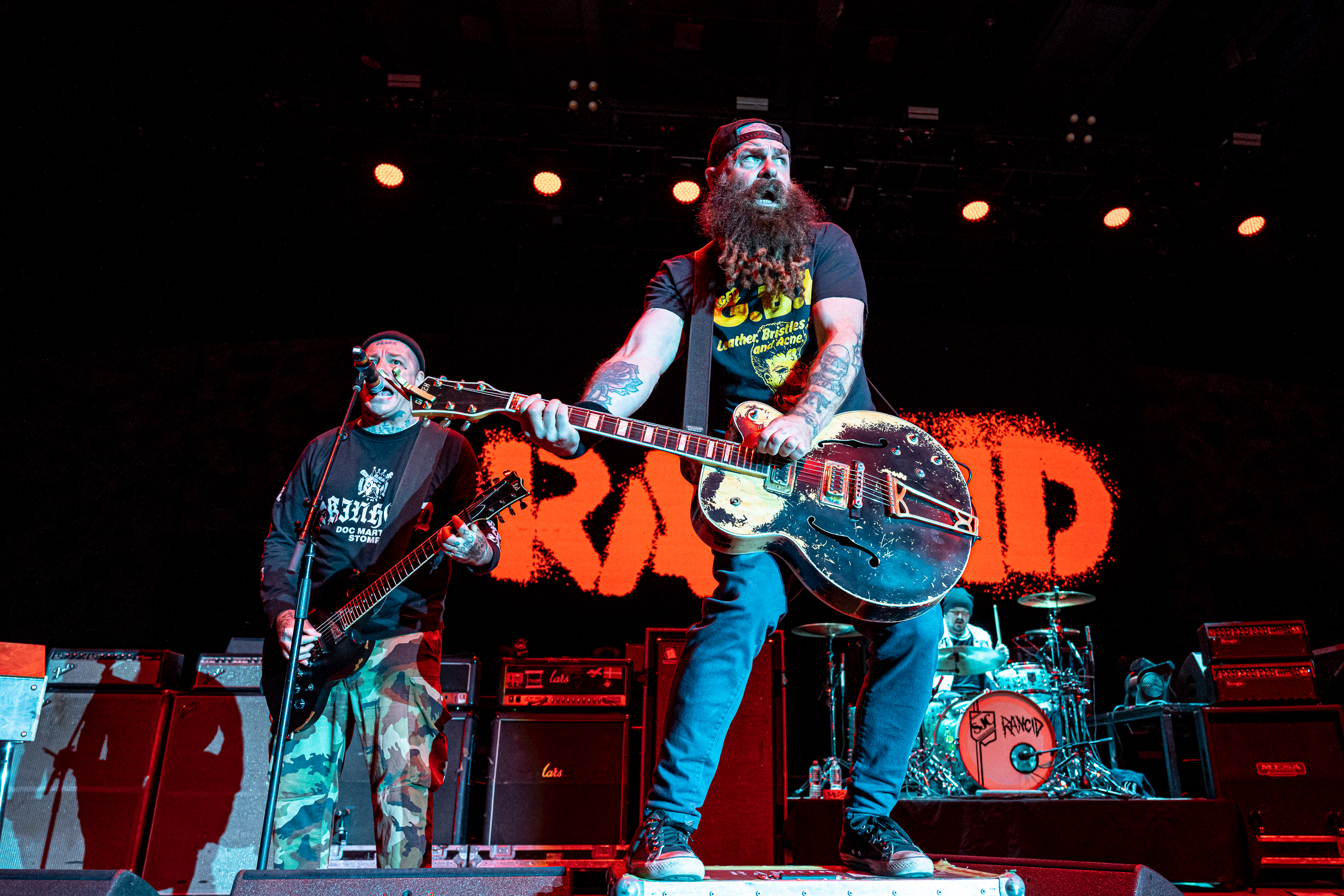 Dropkick Murphys, Rancid and The Bronx perform October 7, 2021 at Frost Amphitheater in Palo Alto, California
---
After their successful 2017 run, Dropkick Murphys and Rancid have brought back their "From Boston to Berkeley Tour" with the legendary The Bronx in tow. While this year's tour hit neither Boston nor Berkeley, the boys came close enough with a hometown-ish show at Stanford University's Frost Amphitheater.
A punk show of this magnitude (actually pretty much any magnitude) would normally be unheard of at a location such as this (Lars Frederiksen would eventually comment that 20 years ago they would have received a police escort out of town), but the punkers seemed to roll in from near and far presenting an interesting mix with what appeared to be Stanford University students, professors and local hippies. And as an added bonus for those that arrived early, you got an unexpected fly over by the Blue Angels.
The Bronx kicked things off early with a 6 pm start that not surprisingly got the gathering crowd moving with their predictably powerful set that featured a clutch of tunes off their recent release, Bronx VI. The band seemed to have two primary objectives when they hit the stage: 1) pump up the crowd for the evening of music to follow, and 2) bring their new album to the masses. With an ample 45 minute set, the Bronx did exactly that though frontman Matt Caughthran chose to spend it all on stage rather than in the mosh pit. Stellar as always, though, and the DKM/Rancid crew could not have picked a better opener.
There was likely little debate over which of the co-headliners would be playing last on this particular evening but that didn't mean that Dropkick Murphys had any intention of phoning it in for the Bay Area crowd. Quite the contrary in fact … with only an hour on stage the band wasted no time tearing right into their standard opener, "The Boys Are Back." With the rest of the band set back on the stage, vocalists/frontmen Al Barr and Ken Casey whipped up the audience as they crossed each other on the edge of the stage.
With a relatively new album in the hopper (Turn Up That Dial), DKMs made sure to give it sufficient attention, hitting a handful of those tunes (and even tossing out a few records to youngsters in the crowd) along with the classics that they'd have a hard time getting away with skipping. To mix it up a bit they even threw in through in a few covers including Gang Green's "Alcohol" (which hasn't graced a DKM setlist with any frequency in several years) as the set closer.
While the Dropkicks made the most of the giant video screen and lighting, Rancid took a decidedly different approach … turn the lights on and play! Rancid set the tone for their set right off the bat, pulling out "Roots Radicals" which immediately got the crowd dancing and singing along. Apparently there were a lot of … and Out Come the Wolves fans in the crowd which was a good thing because Rancid delivered a whopping dose of that album. A while the band took a moment to promise that a new album was imminent, they held off on any spoilers and focused on bringing the fan favorites, covering a broad swath of their catalog from their 1993 self-titled debut to their last release Trouble Maker.
It shouldn't come as a surprise that after over 18 months without shows, Rancid stuck with the tried and true, shaking off the dust and giving the fans exactly what they wanted to hear. No doubt that by the time their new record is released the subsequent tour will take on a decidedly different approach.
With several thousand packing Frost Amphitheater it was clear that people are ready to get back to doing what they do. And while it felt odd for this particular show to happen in the middle of the Stanford University campus, the expansive amphitheater proved to be a perfect location for many to jump back into the germ pool so to speak. As for the bands, they gave the fans exactly what they needed and when they needed it while doing their best to keep things fresh for those that caught the tour last time around.
2021 Alan Snodgrass | www.digitaldiversion.net. Please do not use without express permission.